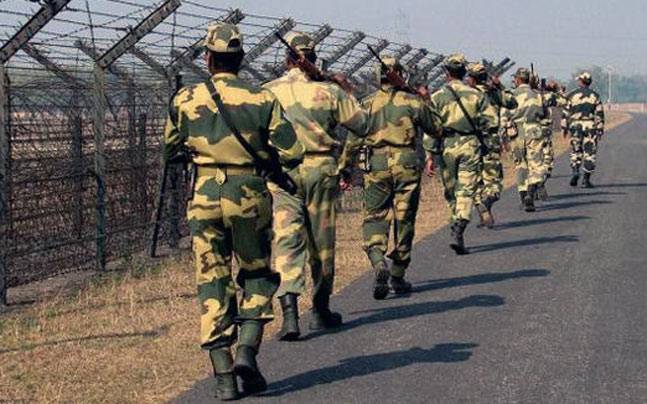 Following Indian Army's surgical strikes across the LoC on Thursday, Punjab was put on maximum alert and the government has ordered the evacuation of villages in a 10-km belt along the border with Pakistan. Schools in the border area have also been ordered shut.
The Indian Army today said it conducted surgical strikes targeting four terror camps and six launching pads in Pakistan Occupied Kashmir (PoK) last night.
Villages in districts of Ferozepur, Fazilka, Amritsar, Taran Tarn, Gurdaspur and Pathankot have been ordered to evacuate as a precautionary measure.
Punjab cabinet ministers and MLAs have been ordered by Chief Minister Sukhbir Singh Badal to camp in border districts to oversee the evacuation.
Border Security Force (BSF) was mobilizing its troops and strengthening the security along the border.
The BSF has toned down the Retreat ceremony held at the Attari-Wagah border joint check-post (JCP) at Attari, 30 km from Amritsar, officials said. The ceremony will not have public participation till further notice.
"Punjab is in a state of maximum alert," Harcharan Bains, the advisor to Chief Minister Parkash Singh Badal, said here.
He said appropriate steps were being taken to ensure the safety of people in the border areas with Pakistan.
CM Badal has called a meeting of the Cabinet to take stock of the situation and take appropriate action.
The Union Home Ministry on Thursday directed the Punjab government to get the border villages evacuated.
Local authorities used loudspeakers of gurdwaras to announce to residents in the border villages to leave their homes and villages and move to safer zones.
All schools and other institutions in the border belt have been ordered shut. All leave of Punjab Police and medical personnel in the border areas has been cancelled.
Punjab shares a 553-km border with Pakistan.
The BSF and district authorities have asked visitors and tourists not to move towards Attari for the ceremony on Thursday. It is not clear when the ceremony will resume.