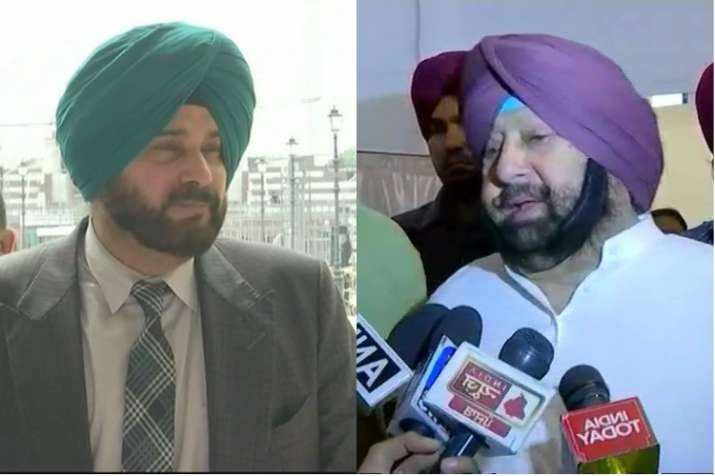 Punjab Chief Minister Captain Amrinder Singh on Sunday slammed Navjot Singh Sidhu for embracing Pakistani Army Chief General Bajwa during newly-elected Pak PM Imran Khan's swearing-in ceremony in Islamabad on Saturday. The Punjab CM, who is a fellow Congress leader of Sidhu, said that he was not in favour of his gesture towards Bajwa. 
"As far as attending the swearing-in ceremony is concerned, he went there in his personal capacity so it has nothing to do with us. About him being seated next to the PoK President, maybe he (Sidhu) didn't know who he was. But as far as hugging the Pakistan Army Chief is concerned I am not in its favour. It was wrong for him to have shown the affection towards the Pakistan Army Chief," the CM told media on Sunday. 
He added, "Everyday our jawans are getting martyred. To hug their Chief General Bajwa...I am against this. The fact is that the man should understand that our soldiers are being killed everyday. My own regiment lost 1 Major and 2 jawans a few months ago and everyday somebody is being shot and whether the man who pulled the trigger is to blame or the man who gives the order which is the chief, and the chief is General Bajwa."
Captain's statement came minutes after Navjot Singh Sidhu justified his hug with Bajwa in front of Indian media at the Attari-Wagah- border after his return. The Cricketer-turned-politician claimed that he embraced Army Chief when he assured him of taking up the issue of giving free passage to Gurudwara Kartar Sahib, near Dera Baba Nanak.
"If someone (Pak Army Chief General Bajwa) comes to me and says that we belong to the same culture and we'll open Kartarpur border on Guru Nanak Dev's 550th Prakash Parv, what else I could do?," Sidhu quipped. 
The leader, who recently switched sides from BJP to Congress during the state assembly elections last year, also justified being seated next to  President of PoK Masood Khan. 
In his defence, Sidhu said: If you're invited as a guest of honour somewhere, you sit wherever you are asked to. I was sitting somewhere else but they asked me to sit there. The leader claimed that he knew no one besides Imran Khan at the swearing-in ceremony. He said he had no idea if he was sitting with PoK president as he had met him for the first time. He said first he was sitting in a different row but then he was escorted to first row among Pakistani generals.
Sidhu further said that he had closed door meeting with Pakistani PM Imran khan and claimed he would work for betterment of Pakistan and improve relations with India.
Navjot Singh Sidhu was invited to Imran Khan's swearing-in ceremony due to their years of friendship dating back to their cricketing days and he had gone to Islamabad in personal capacity.