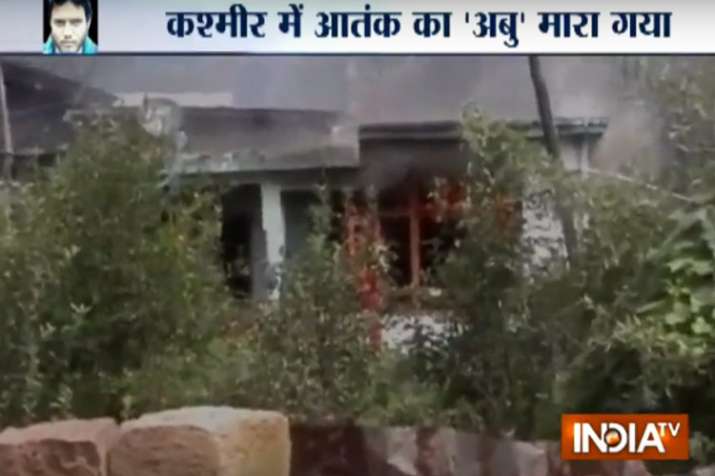 Lashkar-e-Taiba's (LeT) divisional commander Abu Dujana, along with his accomplice Arif Dar, was gunned down in an encounter between security forces and militants in south Kashmir's Pulwama district on Tuesday morning.
The Army and Jammu and Kashmir Police addressed a joint press conference after the encounter and confirmed the death of Abu Dujana, and his accomplice Arif Dar. 
"After the operation concluded, we found two dead bodies. One was Abu Dujana, the other was Arif Dar," said kashmir zone IGP Munir Khan. 
"It was a clea operation. However, there was one civilian casualty of Firdaus Khan of Begham Bagh, 5-6 pellet injuries and two bullet injuries," he added. 
Khan further said that despite of several warning, "people on behest of terrorists tend to come in between encounter. This is how they get iklled or injured". 
GoC 15 core J S Sandhu said that Dujana had become a nuisance in the area, and was a threat to the girls. "He entered any house and did whatever he wanted," he said. 
"He was enjoying himself here and was largely a nuisance. Surely the leadership of the Lashkar has been affected with Dujana's killing," Sadhu added.
Earlier on Tuesday morning at 4:30 a.m., a joint cordon and search operations (CASO) was launched by 182 Battalion, 183 Battalion, Central Reserve Police Force (CRPF), 55 Rashtriya Rifles (RR) and Special Operations Group (SOG) in Hakripora village on a specific input about the presence of LeT terrorist in one of the houses.
As the security forces were engaged in the counter-militancy operation, over 100 protestors pelted stones on them, an Army official said. 
Giving details of the operation, the official said that security forces launched a cordon and search operation in Hakripora area of Pulwama late last night following information about presence of Abu Dujana and his local aide, Arif Lilhaari, in the area. 
An encounter broke out between the holed up militants and security forces early today. During the ensuing firefight, both the militants were killed, the official said. 
Bodies of the slain militants have been recovered, the official said adding the operation has now been called off.
As the counter-militancy operation was on, over 100 protestors pelted stones on them, the official said. He said security forces used tear smoke shells, pellets and fired few live rounds to disperse the stone-pelting protestors. 
Two persons were injured in the security forces' action even as the clashes were going on till last reports came in, he said. 
Jehangir Ahmad Dar was hit by a bullet in the back while Mudasir Ahmad was hit by pellets in the chest, the official said, adding both have been admitted to different hospitals.
Internet services have been snapped in south Kashmir as a precautionary measure to maintain law and order. The speed of Internet services in other parts of the Valley have been significantly reduced following killing of the two militants.
As a precautionary measure following Dujana's killing, all schools and colleges in the Valley have been closed. 
The security forces tracked Abu Dujana's location through his mobile phone, which he had dropped while trying to flee away during an encounter in February this year. Police said that the phone recovered then, which was secured with 'double lock', helped in tracking his movement. 
How Abu Dujana became the 'most wanted' militant in Kashmir
Dujana came close to being caught by security forces in May in the same village that Tuesday's encounter occurred in. A stone-pelting mob however gave him cover to escape. That was the fifth close escape he had.
Abu Dujana was one of the most wanted militant by the security forces for his role in Udhampur attack in which two Border Security Force (BSF) personnel were killed and around a dozen were injured last month. 
Dujana carried a reward of Rs 15 lakh on his head and figured among the top militants of the valley, categorised A++ by the army.
A few months ago he was disarmed by his group following the rift within Lashkar-e-Taiba, and was replaced by Abu Ismail.
Dujana then joined the militant group lead by former Hizbul Mujahideen commander Zakir Musa who recently broke away from the militant outfit after Syed Salahuddin, chief of United Jihad Council (UJC) and supreme commander, dissociated from Musa's statement threatening to behead the Hurriyat leaders for seeking to establish a secular independent state. 
Heading LeT's terror activities in the Valley, Dujana is said to be from the Gilgit-Baltistan region in Pakistan-occupied Kashmir (PoK). He is the third top militant leader killed in Kashmir since last year. Hizbul Mujahideen leaders Burhan Wani and Sabzar Bhat were killed by security forces earlier.
Dujana made his first public appearance at the funeral of a local Kashmir militant in 2014 in Kakpora area of Pulwama. He, however, came under the scanner of security forces when he attended the funeral of Hizbul commander Burhan Wani in south Kashmir's Tral area in July last year.