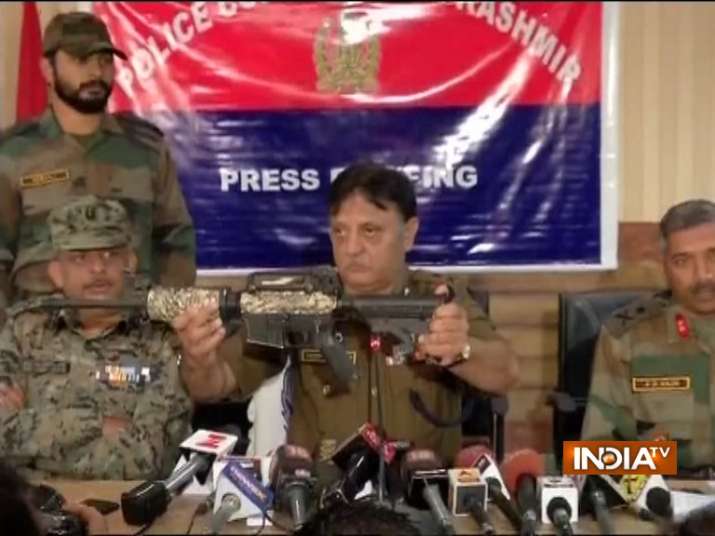 Security forces have recovered a US-made M4 carbine from the hideout of militants who were killed in an encounter in Pulwama district of Jammu and Kashmir on Monday. The Colt-manufactured weapon had featured widely in online propaganda posts last week, according to media reports. 
At a joint press conference in Srinagar, Major General BS Raju, General officer commanding (GOC) of the Victor Force, and Inspector General of Police Muneer Khan said appropriate authorities, including the (US) embassy, will be informed about the recovery. 
Raju said the M4 is used by NATO forces as well as by the Special Forces of the Pakistan Army. He said that the Army has reason to believe that the particular weapon was given to JeM cadres by the Pakistan Army, clearly showing the complicity between the Pakistani forces and the Jaish-e-Mohammed. 
An AK-74 rifle, a variation of AK-47, was also recovered from the militants, police said. 
One of the three militants that were gunned down has been identified as Talha Rasheed, the nephew of Jaish-e-Muhammad chief Maulana Masood Azhar. A JeM spokesman had said that one of the militants killed was Azhar's nephew Talha.
Hassan Shah, the JeM spokesman, identified the other militants as Muhammad Bhai, and Waseem, a resident of Drubgam in Pulwama.
Commenting on the acknowledgment of the militants' identity, Khan said, "This is the first time they owned a Pak terrorist, that he is nephew of Masood Azhar. We'll ask them to collect body because they owned it." 
"As all of you know we had a successful operation at Pulwama. Three militants were neutralised, one Jawan was also martyred. They were involved in Rajpura attack in which one Jawan had lost his life. It was an excellent operation. The recovery of weapons is important in this encounter," Khan told reporters. 
Providing details of the operation, Raju said, "At 6, we made contact with militants and at around 9-10 all three militants were eliminated. There was a little interference during the encounter."
"The prize was killing of Talha Rasheed, nephew of Masood Azhar," he said. 
Army Chief General Bipin Rawat said the fact that one militant was Masood Azhar's nephew does not matter as "we aim at neutralizing all terrorists no matter where they belong." 
He said the recovery of an M4 makes it clear that terrorists are getting support from across the border.
An Army jawan was also martyred in the encounter that broke out between militants and security forces on Monday.  
The encounter between the security forces and militants took place in the Kandi belt of Aglar area in Pulwama district in Jammu and Kashmir. Security forces had launched a cordon-and-search operation in the Kandi belt following information about the presence of some militants. 
The search operation led to a gunbattle after the militants fired at the security forces, they said.