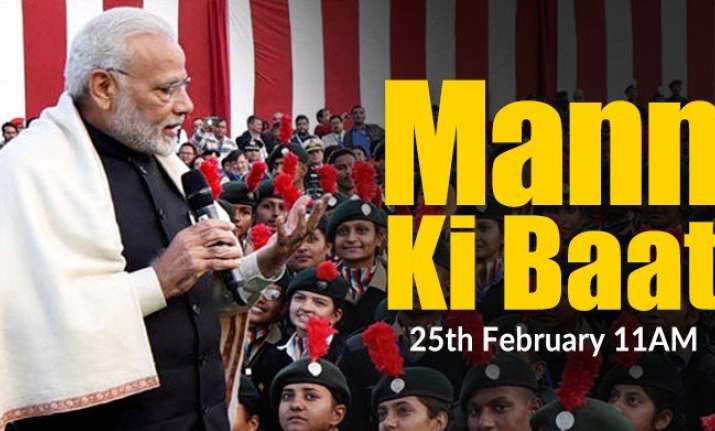 Prime Minister Narendra Modi today addressed his monthly radio show Mann ki Baat. It was the 41st edition of the Mann Ki Baat programme and was broadcast simultaneously at All India Radio, Doordarshan and the Narendra Modi mobile application. (How to hear Mann Ki Baat live)
In his last address, PM Modi had lauded the women achievers of the country. He had also appreciated 'Mission Clean Morna River', and congratulated people for making it a 'mass movement'.
Also read | Rahul Gandhi questions PM Modi's silence on PNB fraud in 'Mann ki Baat'
Highlights of PM Modi's Mann ki Baat: 
Watch PM Modi's Mann ki Baat here: 
11:29 pm: PM Modi wishes the nation a colourful Holi
11:27 am: Surprised to learn that Elephanta Islands never had electricity despite being so close to Mumbai
11:25 am: 15 lakh women in Jharkhand recently built 1,70,000 toilets, I commend their contribution to Swachh Bharat Abhiyan
11:23 am: I congratulate India on International women's day on March 8
11:22 am: Nation moving from 'women development' to 'women-led development'
11:19 am: I urge women from rural India to come forward and make self-help groups to turn their waste to wealth and turn 'gobar' to 'gobardhan'.
11:18 am: In this budget, emphasis was laid on 'waste to wealth' & 'waste to energy' through bio-gas for villages under 'Swacch Bharat' initiative called 'GOBAR-Dhan' (Galvanizing Organic Bio-Agro Resources) has been rolled out: PM Modi 
11:18 am: 
11:16 am: Most of the accidents barring national disasters in some way or the other occur due to our negligence. If we remain vigilante & follow rules then we can avoid such situations: PM Modi
11:15 am: BIMSTEC countries came together to do a join disaster management exercise.
11:15 am: 
I appreciate the heroes who work in relief & rescue operations across the country. #MannKiBaat pic.twitter.com/VT6twikxEc

— PMO India (@PMOIndia) February 25, 2018
11:12 am: NDMA and other organisations have worked hard to revolutionise disaster management and reduce casualties
11:10 am: PM Modi advises workplace safety ahead of National Safety Week on March 4
11:07 am: 
Paying tributes to Maharishi Aurobindo. pic.twitter.com/sRmOEOrmdK

— PMO India (@PMOIndia) February 25, 2018
11:06 am: Science and technology are value-neutral, thus human intention becomes crucial
11:05 am: 
Leveraging Artificial Intelligence for betterment of all humans. pic.twitter.com/TX9Grsrol7

— PMO India (@PMOIndia) February 25, 2018
11:05 am: I urge the scientists to find ways in which we can enhance lives of our 'divyang' brothers & sisters through artificial intelligence. Also, can we make use of Artificial intelligence in early detection of natural calamities?: PM Modi
11:03 am: PM Modi gives tips to students to advance scientific thinking: 'India has given the world great scientists like CV Raman and Jagadish Bose'
11:00 am: PM Modi addresses Mann ki Baat
10:30 am: PM Modi to address Mann ki Baat at 11 AM