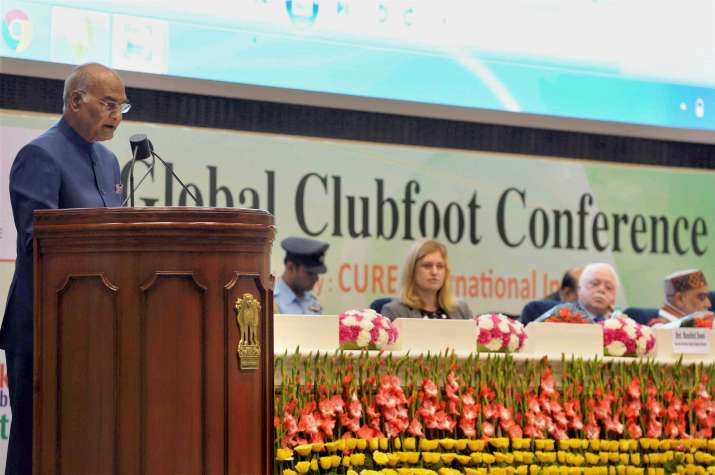 President Ram Nath Kovind on Wednesday called for a "national resolve" to make treatment services accessible to every child born with clubfoot by 2022, the year India completes 75 years of its Independence.
"In 2022, India completes 75 years of its independence. It should be a national resolve that by then every child born with clubfoot gets access to treatment services as soon as the condition is diagnosed," the president said at the inauguration of Global Clubfoot Conference in New Delhi.
Kovind highlighted that out of 50,000 children who are born annually in India with clubfoot, only 8,000 fresh cases are brought into the ambit of treatment
The President said that we owe it to the next generation to defeat and remove clubfoot from our list of public health challenges and expressed confidence that this can be done. "By 2022, we simply have to make clubfoot history" 
The event was organised by the CURE India in partnership with the Ministry of Health and Family Welfare.
500 doctors from 29 Indian states are attending the conference. Doctors from around 20 countries are also attending the event. 
Speaking at the occasion, Kovind said clubfoot is one of the most common orthopaedic birth defects which affects the child's mobility and confidence. Education and schooling of the child suffer due to it and affects his or her potential, he said
Pointing out the fact that the disease is curable, Kovind said most children who suffered from clubfoot needed to be treated surgically which was expensive for parents and traumatic for both the children and their families. 
"Access to surgery was also difficult in rural areas. As such, many received no treatment. They were left to a lifetime of disability and stigma," he said. 
The President informed of the Ponseti method, a recent treatment method "considered the gold standard in treating clubfoot" that doesn't require surgery. He praised the progaramme by CURE International India towards treatment of clubfoot through the new method in the country.
"I am happy to learn that public hospitals are partnering with CURE International India to reach out to as many children as possible. Such collaborative efforts between the government and civil society organisations are heartening," he said.
The programme is active in 29 states with teachers in government medical colleges and doctors in the public health system participating in it. The eight-year-old programme has enrolled 40,000 children for treatment since 2009.
The programme which began in 2009 has enrolled 40,000 children for treatment in eight years of its run. It is the largest such programme in the world. 
Stressing on numerous cases of disability in the country, Kovind called for prevention and treatment of preventable and curable disabilities, and inclusion of disabled individuals in the mainstream.
"Differently-abled or Divyang as we call them deserve equal opportunities in all avenues of life. Mainstreaming their social and professional experience is a commitment for all of us," the President added.
President Kovind also mentioned India's success in eradicating paralytic poliomyelitis.
"This has been a major milestone in the history of public health not only in India but globally. It must motivate us to work towards eliminating other disabilities and other diseases and take on the challenge of clubfoot," he said on the same.