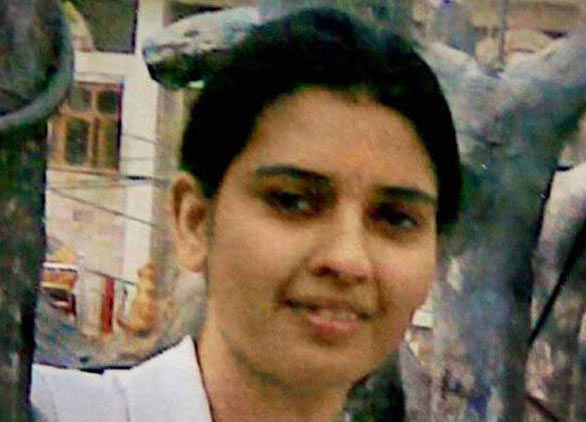 In the first such instance of a court handing the death penalty in an acid attack case, a special women's court here today sentenced 26-year-old Ankur Lal Panwar to death for murdering Delhi native Preeti Rathi in 2013 by throwing acid at her after he allegedly grew jealous of the nurse who had come to Mumbai to pursue a career in a defence hospital. 
Panwar was convicted of the murder on Tuesday under Sections 302 (murder) and 326 B (Voluntarily throwing acid) of the IPC. 
During the argument for quantum of sentence yesterday, Special Public Prosecutor Ujjwal Nikam termed the case fit for death sentence, saying that it falls in the "rarest of the rare" category. 
Objective of the sentencing is to deter criminals and like-minded persons from committing such crime, he said, contending that "the court would be failing in its duty if a just and appropriate punishment was not awarded". 
Nikam submitted that the country has now become so conscious about crime against women that after the Delhi gangrape case of 2012, amendments were made to IPC. 
Acid attack is a crime against women, he said, seeking an exemplary punishment for the convict. 
Rathi, then 24, had died of multiple organ failure after Panwar threw acid on her on May 2, 2013 at the Bandra railway station here. 
Rathi, who had come to Mumbai join as nurse in a defence hospital, succumbed to her injuries at a private hospital here on June 1, 2013. 
Panwar was Rathi's neighbour in Bhakra Beas Management Board Colony in Delhi. 
Mumbai police filed a 1332-page charge sheet against Panwar in April 2014 and also submitted a list of 98 witnesses after he was arrested from the national capital in January. 
As per the charge sheet, Panwar, a hotel management graduate, threw concentrated sulfuric acid on Preeti at Bandra station here, as he was jealous of her career growth. 
According to police, Rathi had secured a nursing job with the Ministry of Defence at the INHS Ashvini Hospital. Also, Panwar's parents often told him about his failure to get a job despite completing his education and would praise Preeti, who landed the job at the Navy hospital in Colaba. 
Panwar wanted to disfigure her face so as to destroy her career. He procured the acid on April 2 and boarded the same train taken by Preeti and her family to Mumbai. 
Outside the court today, Panwar's mother Kailash demanded a CBI inquiry claiming her son had been falsely implicated. 
"We have been implicated just because we are poor. I want a CBI inquiry into the case," she said. 
Rathi's father Amar Singh Rathi hoped Panwar would get capital punishment. 
"It took three years for us to get justice but I am happy that it has been finally delivered. I hope he gets death sentence," he said. 
Special Public Prosecutor Ujjwal Nikam said 37 witnesses had been examined in the case, including 11 doctors and five eyewitnesses.
Panwar allegedly flung the bottle of acid on Preeti when she got down from Garib Rath Express at the Bandra Terminus and took the same train back home. 
The gruesome incident had set the local police on a wild goose chase as Panwar had covered his face at the time of the attack. 
The Railway Police, which initially probed the case, had arrested another neighbour of Rathi, Pawankumar Gahalon, but set him free as there was no evidence against him. 
Later, based on a Bombay High Court direction, the case was handed over to Mumbai Crime Branch, whose investigation led to Panwar and arrested him. 
"I myself gave an affidavit for Gahalon to the police saying that he has nothing to do with the crime after I was convinced that he had no role in the crime," Rathi's father said today. 
He said after Panwar's arrest, he had gone to the Crime Branch where the accused confessed about the whole incident.