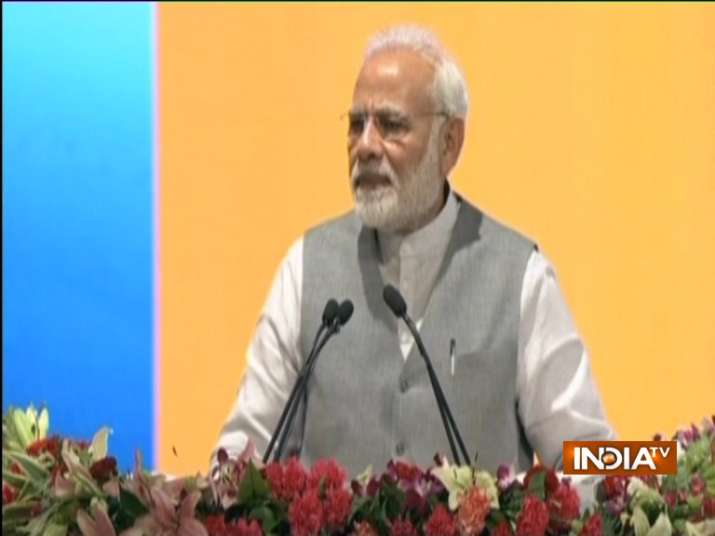 Prime Minister Narendra Modi on Saturday arrived in Lucknow on a two-day visit to the city. He attended an event on Transforming Urban Landscape that marked the third anniversary of three key government initiatives related to urban development — Pradhan Mantri Awas Yojana (Urban), Atal Mission for Rejuvenation of Urban Transformation (AMRUT) and the Smart Cities Mission. PM Modi also visited an exhibition on Flagship Missions of Urban Development. He also interacted with 35 beneficiaries of PMAY (Urban), one from each state and union territory. PM Modi also received feedback from PMAY beneficiaries, via video link, from different cities of Uttar Pradesh.
Highlights of PM Modi's speech:
07:23 pm: PM Modi concludes his speech
07:20 pm: For government, Smart City is not only a project but a mission. The mission will prepare our cities of New India to face the challenges of 21st century, to create world-class intelligent urban centres in India
07:19 pm: We are committed to create systems for future generations wherein lives weill be based on five Es- Ease of Living, Education, Employment, Economy and Entertainment 
7:18 pm: Transparency has been ensured which has reduced corruption: PM Modi
07:16 pm: Online services have reduced long queues for common man. These queues were at the root of the corruption.
07:15 pm: Indian economy is moving forward with 7.5% growth rate. The rate will increase even further: PM Modi
7:13 pm: PM Modi praises UP CM Adityanath for efficiently executing PMAY schemes.
07:12 pm: PM Modi made these remarks in an indirect reference to the allegations leveled by Rahul Gandhi that he was a 'bhagidar' in Rafale corruption.
07:11 pm: Allegations have been made that I'm a "Bhagidaar' and not a 'chowkidar'. I'm proud of being a 'bhagidar' of the pain and sufferings of poor people. I'm bhagidar of the pain of farmers and labourers: PM Modi
​07:08 pm: The houses that are being made today are equipped with  toilets, electricity under saubhagya yojana, LED bulbs under Ujala scheme…means there is a compete package.
07:07 pm: Keeping that target in mind, 54 lakh new houses were approved in urban areas in last three years. Even in villages, more than 1 crore houses have been handed over to people: PM Modi
07:06 pm: The government wants to provide a roof over everyone's head by the year 2022: PM Modi
07:05 pm: Poverty has given me honesty and courage: PM Modi
7:04 pm: I am proud of being son of a poor mother, says PM Modi
7:00 pm: In 12 cities, either metro is running today or is under-construction. The metro in Delhi was introduced by Vajpayee ji: PM Modi
06:56 pm: Former PM Vajpayee is not keeping well these days. My govt is striving to fulfil his dreams: PM Modi
6:52 pm: Smart cities will make the lives of poor better: PM Modi
6:50 pm: PM Modi praises women mayors of Lucknow
6:47 pm: PM Modi begins his speech
6:30 pm: PM Modi interacts with  PMAY beneficiaries, via video link, from different parts of Uttar Pradesh.
6:20 pm: PM Modi to begin his speech shortly
6:12 pm: Previous govt had constructed only 35,000 toilets. However, steps will be taken to make the state open defecation free by next Gandhi jayanti: Yogi Adityanath
6:10 pm: Am thankful to PM for choosing Lucknow for celebrating the third anniversary of these programmes: Yogi Adityanath
​6:03 pm: Indian economy has leapfrogged from 9th to 6th position in the world: Rajnath Singh
5:58 pm: If we have to eradicate poverty then it can be done only through urban development mission, says Hardeep Puri
5:52 pm: PM Modi accompanied with UP CM Yogi Adityanath arrives at the event.
5:50 pm: Up's deputy chief ministers Dinesh Sharma, KP Maurya, Union Urban Development Minister Hardeep Puri also present at the event.
5:30 pm: PM Modi interacts with beneficiaries of Pradhan Mantri Awas Yojana (Urban)
Lucknow: PM Narendra Modi interacts with beneficiaries of Pradhan Mantri Awas Yojana (Urban) pic.twitter.com/ALBgtBkT3H

— ANI UP (@ANINewsUP) July 28, 2018
4:44 pm: PM Modi arrives in Lucknow
PM Narendra Modi arrives in Lucknow. He will address at an event on 'Transforming Urban Landscape' to mark 3rd anniversary of 3 key govt initiatives on urban development, shortly. pic.twitter.com/mDFRkpbKdi

— ANI UP (@ANINewsUP) July 28, 2018
On Sunday, PM Modi will attend a ground-breaking ceremony for projects involving an investment of Rs. 60,000 crore. These projects were finalised during the UP Investors Summit that was held early this year.
This is PM Modi's third visit to Uttar Pradesh in a month in run up to the 2019 Lok Sabha elections, signifying the importance being attached to the state, which has 80 parliamentary seats. He had visited Varanasi, Azamgarh and Mirzapur districts of Uttar Pradesh on July 14 and 15. He had visited Sant Kabir Nagar on June 28.