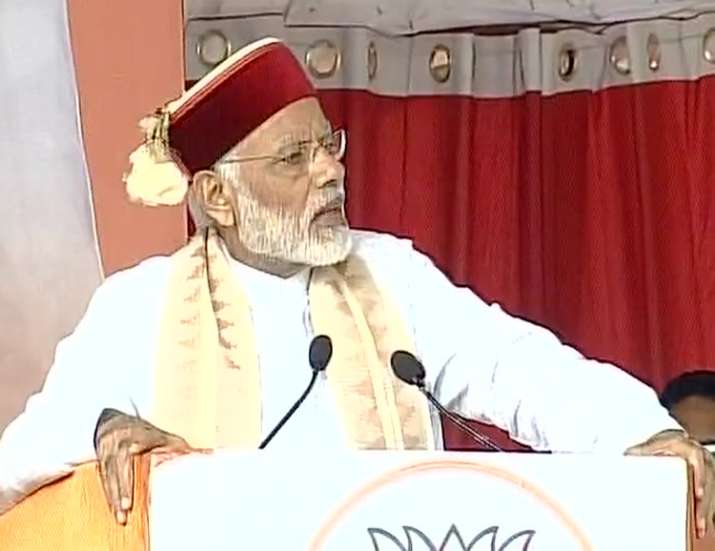 Prime Minister Narendra Modi is on a day-long visit to Himachal Pradesh today where he laid the foundation stone for an All India Institutes of Medical Sciences (AIIMS). He also laid the foundation stone for an Indian Institute of Information Technology (IIIT) besides inaugurating a steel plant.
The AIIMS at Bilaspur is a 750-bed hospital which is to be built at a cost of about Rs 1350 crore. The institute will, in addition to healthcare, provide medical education at the under-graduate and post-graduate level, besides nursing, a PMO statement said. 
He also addressed a public meeting in Bilaspur. 
PM Modi's Himachal visit: Highlights 
02:17 pm: Entire Congress party is on bail: PM Modi 
02:16 pm: How long will you tolerate this "zamanati sarkar", asks PM Modi 
02:15 pm: There is a "zamanati sarkar" in Himachal: PM Modi 
02:13 pm: I have a old relationship with Himachal and that is why I want to much for this state: PM Modi 
02:13 pm: There are 13 projects in Himachal for which the Central government will spend Rs 15,000 crore: PM Modi 
02:12 pm: There are 50 soldiers in every village of Himachal, I salute them: PM Modi 
02:09 pm: For 40 years, One Rank One Pension was pending, only we fulfilled the promise: PM Modi  
02:08 pm: There used to be a Prime Minister in each department and there was also a remote control prime minister: PM Modi  
02:08 pm: The project was pending for seven years because two departments of the government were fighting: PM Modi 
02:07 pm: If you want to see how government functioned before us, you need to see the steel plant here: PM Modi 
02:06 pm: We're making a campus where over 3000 people will work together. This is also bringing employment opportunities: PM Modi on AIIMS Bilaspur
02:02 pm: The government will relaunch "Indradhanush scheme" for vaccination of children next week: PM Modi  
02:01 pm: Tourists come here from far off places. If they get access to AIIMS & get treated well, they will want to come here frequently: PM Modi
01: 59 pm: This AIIMS will not only become a lifeline for the people of Himachal but also a boost to the tourism sector here: PM Modi on AIIMS Bilaspur 
01:58 pm: The new AIIMS will not only serve people of Hmachal but the people of entire North India: PM Modi 
01:57 pm: Opening of AIIMS in Himachal Pradesh especially in this region of the state has a lot of benefits for people: PM Modi
01:56 pm: It is my good fortune that I get to something for Himachal: PM Modi in Bilaspur
01:53 pm: I have a special relationship with Himachal Pradesh: PM Modi 
01:52 pm: There is no era in the history of India when people of Himachal have not sacrificed: PM Modi 
01:51 pm: Whenver we talk about agricultural development, the name of Bilaspur is always mentioned: PM Modi  
01:50 pm: Bhakra-Nangal Dam was made because of the sacrifices made by people of Bilaspur: PM Modi  
01:00 pm: PM Modi lays foundation stone of AIIMS in Bilaspur. Governor Acharya Dev Vrat, CM Virbhadra Singh and Union Min JP Nadda present
HP: PM Modi lays foundation stone of AIIMS in Bilaspur. Governor Acharya Dev Vrat, CM Virbhadra Singh and Union Min JP Nadda present pic.twitter.com/b8y619aYy3

— ANI (@ANI) October 3, 2017