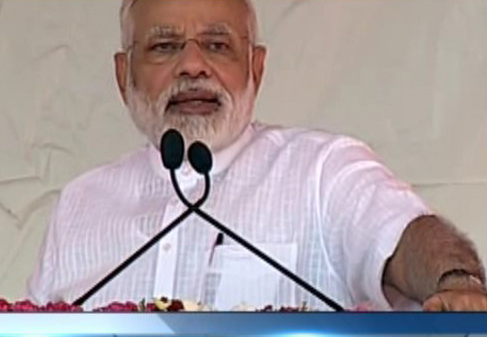 Prime Minister Narendra Modi, who is on a two-day visit to his Varanasi Lok Sabha constituency,  today addressing the farmers said that few parties work for votes only, but our aim is to double farmers income by 2020.
"Our politics is not for votes, our culture is different as for us country is bigger than party," Modi said. The prime prime minister also said that by 2022, every poor, whether in urban or rural area, will get a home.
Earlier today, PM Modi inaugurated 'Pashu Arogya Mela' in Shahanshahpur on the outskirts of the city.
PM MODI ADDRESSED FARMERS IN VARANASI: AS IT HAPPENED
11:00 am: 'Swachhta' has to become 'Swabhav', its our collective responsibility, a cleaner India will also be a healthier India.
10:55 am: A survey reveals that the construction of toilets in homes help people keep away from diseases.
10:54 am: Agriculture and the development of farmers is one of the best ways to progress.
10:53 am: Cleanliness important for our health.
10:40 am: I want to compliment Uttar Pradesh Government especially CM Adityanath for organising the Pashudhan Arogya Mela.
10:37 am: Our aim is to double our farmers income by 2020.
10:35 am: For us, governance is not about politics or winning elections. The priority is the well being of the nation.
10:34 am: Betterment of farmers our top agenda.
10:33 am: Few parties only work for votes.
WATCH: PM Modi addresses farmers in Varanasi https://t.co/p9d43zyzXk

— ANI (@ANI) September 23, 2017
10:30 am: Want to congratulate people of Uttar Pradesh.
10:25 am: I am grateful that I got the opportunity to lay the foundation for toilet under Swachh Bharat in Shahanshahpur.
9:52 am: PM Modi lays foundation for toilet under Swachh Bharat Abhiyan in Shahanshahpur.
9:50 am: The prime minister inaugurates Pashu Arogya Mela.
9:35 am: The prime minister will also distribute certificates to beneficiaries of the Pradhan Mantri Awaas Yojana at the venue.
9:20 am: He will see the famous 'Subh-e-Benaras' today morning and has some other events to attend before he flies back to the national capital around noon.
9:07 am: PM Modi on Friday evening visited the famous Tulsi Manas and Durga Kund temples and offered his prayers. He was accompanied by Uttar Pradesh Governor Ram Naik and Chief Minister Yogi Adityanath.
9:04 am: He even released a postage stamp on different aspects of Lord Ram's life at the historic Tulsi Manas Mandir here, and said he was a source of inspiration for every individual.
9:01 am: On Friday, soon after arriving in the temple town, Modi inaugurated 17 projects and laid foundation stones of six others. He even gifted schemes totalling Rs 1,000 crore to Varanasi, his Lok Sabha constituency.
8: 50 am: This is PM Modi's first visit to Varanasi after the BJP's landslide victory in the Assembly elections in Uttar Pradesh.