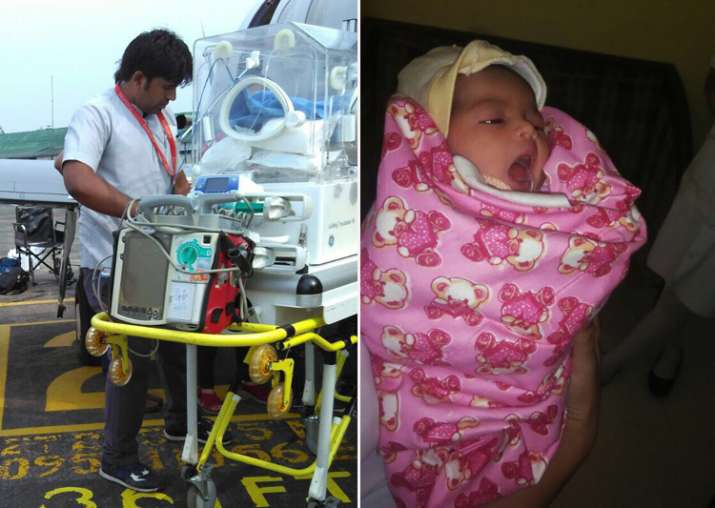 Prime Minister Narendra Modi, who is busy in the last minute electioneering at Varanasi, on Saturday turned a saviour for a eight-day-old girl child from Assam, suffering from a grave medical condition affecting her lungs, and helped her air lifted from Dibrugarh to Delhi's Gangaram Hospital.
The Prime Minister's intervention at the crucial time helped ensure a traffic-free passage for the rescue team and save the life of the baby. 
The parents of the baby say they owe their daughter's life to the Prime Minister and the Delhi Police.
"He is our God today," Dhrubajyoti Kalita, father of the newborn was quoted as saying by the Mail Today. 
"We sought help from several influential people, including a top IPS officer from northeast working with Delhi police. Nobody did anything. We did not know what would happen to our daughter," he said. 
The child was initially diagnosed with meconium aspiration syndrome, a medical condition when first stool of the baby enters the lungs, according to the parents.
When a baby with the condition inhales the contaminated fluid, it causes respiratory disorders that may turn fatal. 
However, doctors at the Gangaram Hospital have said that she has persistent pulmonary hypertension.
After baby's condition got worse, Aditya Hospital in Dibrugarh arranged an air ambulance which landed at Delhi's Indira Gandhi International airport around 7 in the evening, at a time when traffic on Delhi roads is at its peak.
However, with the help of Delhi police, the baby was taken to Gangaram without any obstacle. 
"The way we were received at the airport was beyond our imagination. Delhi police was extremely cordial and professional. We cannot thank enough the Prime Minister Narendra Modi and Delhi police," Kalita told the daily.
Doctors at Gangaram on Sunday said the baby is out of danger and making good progress.
Dhrubajyoti Kalita works in Bhramaputra Cracker and Polymer, a Central government enterprise in Dibrugarh while baby's mother Himakshi Saharia is a primary school teacher.