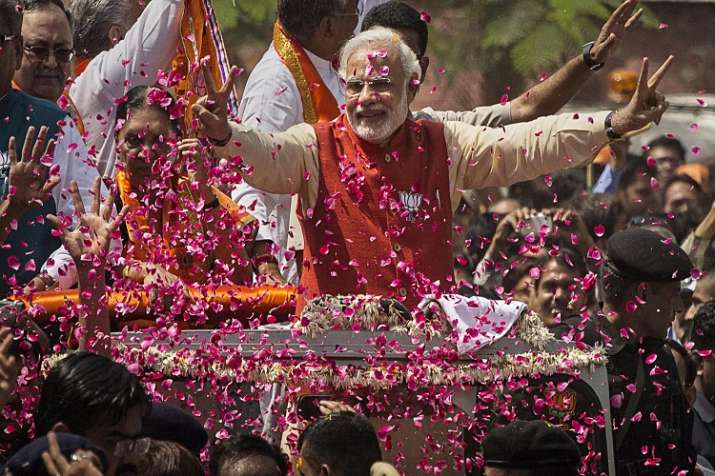 Prime Minister Narendra Modi has come a long way. From a humble upbringing to leading a country with a population of a whopping 130 crore, PM Modi has seen it all. His hard-earned charisma, dedication and staunch will power have catapulted him to become one of the most powerful leaders of the global arena.
His ability to take risks keeping in mind the welfare of the nation has been instrumental to his growth as one of the most sought after world leaders. His three decision-implementation of GST, demonetisation and conducting surgical strikes against Pakistan are testimony to his risk taking capacity. As BJP President Amit Shah rightfully said; "Shri Narendra Modi has become an icon of Politics of Development. With his thrust on innovation and entrepreneurship, he has taken a slew of de-licensing and deregulation measures to remove complexities that hindered growth of business in the country." 
Modi led his party to a resounding victory in the 2014 Lok Sabha polls. His demonstrable political will and determination have transformed India to a major powerhouse on the global map. Being a man of 24*7 governance, he has always made sure that all his policies reach its logical end. He is a rare mix of a person with unmatched resoluteness, strong command over his decisions and perfect result orientation. PM Modi's connect with the aspirational emerging India has made him popular not only among the old but also amongst the youth, across all communities.
FROM HUMBLE BEGINNINGS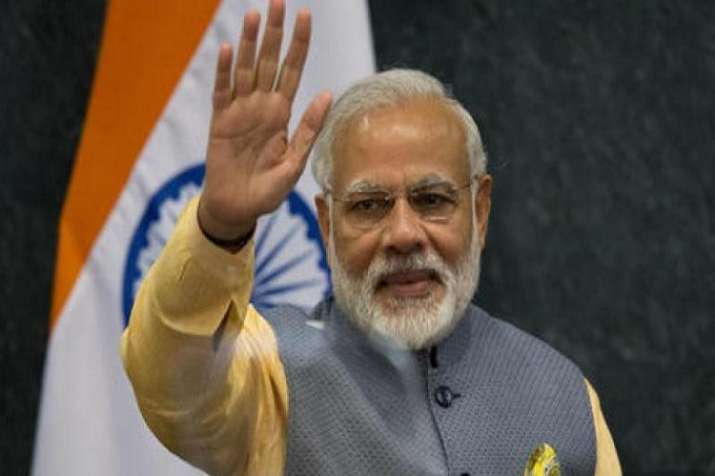 Born September 17, 1950 to family of grocers in Vadnagar, Mehsana district, Bombay (present-day Gujarat), Modi has all the climbed the societal ladder and made a mark of himself in the Indian politics. Chief Minister of Haryana Manohar Lal Khattar has said; "the emergence of Modi as Prime Minister is the advent of a new era of clean politics and proves that a man from  the lowest strata of the society can also rise to the highest political position in India."
Modi was the third of the six children to Damodardas Mulchand Modi and Hiraben Modi. His family belonged to the Modh-Gandh Teli community which is categorised as an Other Backward Class by the Indian government.
As a child, Modi helped his father sell tea at the Vadnagar railway station and later ran a tea stall with his brother near a bus terminus. Modi completed his higher secondary education in Vadnagar in 1967. A good speaker right from his childhood days,  Modi had an early gift for rhetoric in debates. Modi also preferred playing larger-than-life characters in theatrical productions, which has influenced his political image.
He was influenced by the the Rashtriya Swayamsevak Sangh (RSS) when he was mere eight years old and began attending training sessions of the party. There, Modi met Lakshmanrao Inamdar, who inducted him as a 'balswayamsevak' (junior cadet) for RSS. Inamdar went on to become Modi's political mentor. During his RSS days, he also met Vasant Gajendragadkar and Nathalal Jaghda, Bharatiya Jana Sangh leaders who were founding members of the BJP's Gujarat unit in 1980.
He left the home in 1967 and spent the next two years travelling across Northern and North-eastern India. In the late 1969 or early 1970, Modi returned  Vadnagar for a brief visit before leaving again for Ahmedabad. There, Modi lived with his uncle, working in the latter's canteen at the Gujarat State Road Transport Corporation.
In Ahmedabad, Modi renewed his acquaintance with Inamdar, who was based at the Hedgewar Bhavan (RSS headquarters) in the city. After the Indo-Pakistani War of 1971, he stopped working for his uncle and became a full-time campaigner for the RSS, working under Inamdar. Shortly before the war, Modi took part in a non-violent protest against the Indian government in New Delhi, for which he was arrested.
EARLY POLITICAL CAREER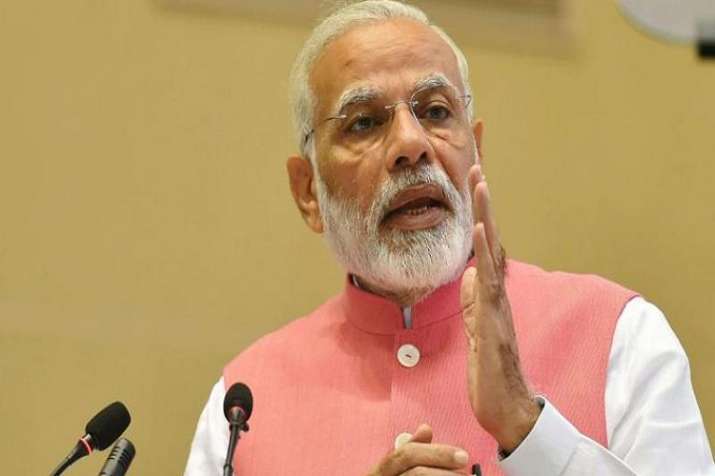 Modi rose to fame in the political front during the Emergency days from 1975-1977. Modi, then the general secretary of the 'Gujarat Lok Sangharsh Samiti' , an RSS committee coordinating opposition to the Emergency in Gujarat was forced to go underground in Gujarat after RSS was banned. During those days, Modi was also involved with creating a network of safe houses for individuals wanted by the government, and in raising funds for political refugees and activists. Modi became an RSS sambhag pracharak (regional organiser) in 1978, overseeing RSS activities in the areas of Surat and Vadodara, and in 1979 he went to work for the RSS in Delhi, where he was put to work researching and writing the RSS's version of the history of the Emergency. He returned to Gujarat a short while later, and was assigned by the RSS to the BJP in 1985.
In 1987 Modi helped organise the BJP's campaign in the Ahmedabad municipal election, which the BJP won comfortably.  After LK Advani became president of the BJP in 1986, the RSS decided to place its members in important positions within the BJP; Modi's work during the Ahmedabad election led to his selection for this role, and Modi was elected organising secretary of the BJP's Gujarat unit later in 1987. Modi rose within the party and was named a member of the BJP's National Election Committee in 1990, helping organise LK Advani's 1990 Ram Rath Yatra in 1990 and Murli Manohar Joshi's 1991–92 Ekta Yatra (Journey for Unity). However, he took a brief break from politics in 1992. Modi returned to electoral politics in 1994, mainly at the insistence of Advani. 
 Modi's electoral strategy was considered central to the BJP victory in the 1995 state assembly elections. In November of that year Modi was elected BJP national secretary and transferred to New Delhi, where he assumed responsibility for party activities in Haryana and Himachal Pradesh. The following year, Shankersinh Vaghela, a prominent BJP leader from Gujarat, defected to the Indian National Congress (Congress, INC) after losing his parliamentary seat in the Lok Sabha elections. Modi, on the selection committee for the 1998 Assembly elections in Gujarat, favoured supporters of BJP leader Keshubhai Patel over those supporting Vaghela to end factional division in the party. His strategy was credited as key to the BJP winning an overall majority in the 1998 elections, and Modi was promoted to BJP general secretary in May of that year.
RISE AND RISE OF NARENDRA MODI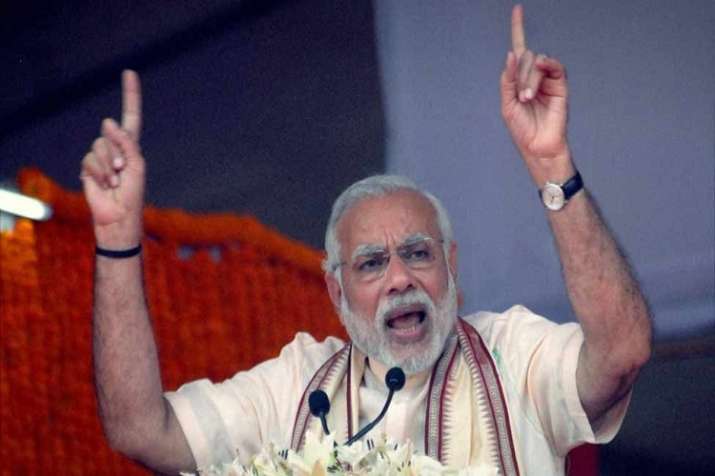 Modi became the Chief Minister of Gujarat for the first time on October 7, 2001 replacing the then Chief Minister Keshubhai Patel. On 24 February 2002 he entered the Gujarat state legislature by winning a by-election to the Rajkot – II constituency. However, in the aftermath of the 2002 Gujarat riots, there was a public outcry demanding Modi's resignation. He submitted his resignation to Gujarat Governor SS Bhandari in April 2002 resulting in the dissolution of the state assembly. However, in the December 2002 elections, the BJP came back to power by winning 127 seats in the 182-member assembly. In July 2007, he became the longest-serving Chief Minister in Gujarat's political history. He governed the state for more than 13 years. In the 2012 Gujarat legislative assembly election, he won his fourth consecutive term as the Chief Minister of Gujarat.
In September 2013 Modi was named the BJP's candidate for prime minister in the 2014 Lok Sabha election. Throughout his election campaign, Modi focused on the corruption scandals under the previous INC government, and played on his image as a politician who had created a high rate of GDP growth in Gujarat. Modi projected himself as a person who could bring about develpment. With his powerful orational skills, he soon struck a chord with the masses. The Modi-led BJP won a whopping 282 seats out of 543 seats in the Lok Sabha polls, thanks to the relentless campaign by the 'developmental man'. He was sworn in as the 14th Prime Minister of India on May 26, 2014. His policies including liberalisation of India's foreign investment policies, labour reforms, economic reforms, 'Make in India' initiative, Demonetisation, Implementation of GST made him one of the powerful leaders of the world. In 2015, the Forbes magazine has ranked Narendra Modi at ninth position as the most powerful person in the world.
Modi is often described as a workaholic leader. Vice President Venkaiah Naidu jokingly described Modi as someone who doesn't sleep and doesn't allow his ministers to do so. The man is on a mission - a mission to build a New India of the 21st century.