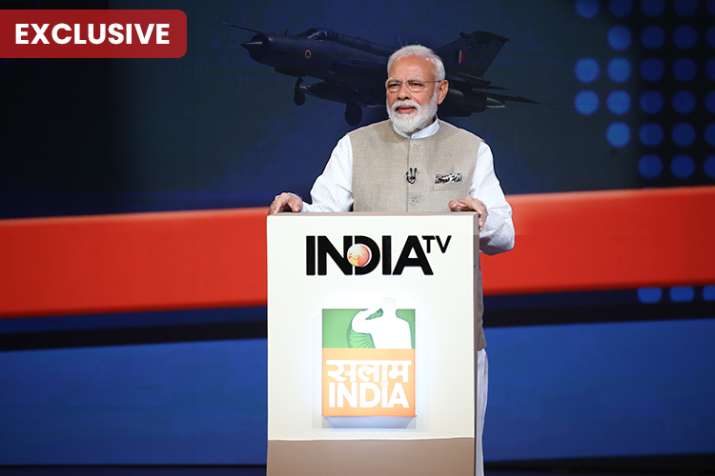 Prime Minister Narendra Modi, in an exclusive chat with Rajat Sharma, editor-in-chief and chairman, India TV, revealed it took the Indian Air Force (IAF) blessings from Lord Hanuman to make the Balakot airstrike a reality. This, in addition to the might the soldiers showed while fighting the enemy.
"I told you people in India [the Opposition] make a mistake while judging me, analysing me. And people in Pakistan also once belonged to India. They also misjudged me. They erected radar systems, barriers and other things. Humne kaha 'Bajrang Bali ki Jai' aur udd karke chale gaye [And we took Lord Hanuman's name and flew our way to victory]," PM Modi said.
PM Modi went on to praise the Indian forces for the feat they had achieved, and rued how in the chaos of Lok Sabha polls, their bravery did not get much space in the news.
"What our military achieved was one of the most successful operations in the whole world. And in the midst of the chaos of the Lok Sabha polls, we overlooked what the Indian forces had accomplished. I pray to God that after the polls are over, the entire country is taught how powerful our forces are and what an enormously Herculean task they did," he said.
On February 14, a suicide bomber, Ahmed Adil Dar, rammed a bus into a CRPF convoy in Jammu and Kashmir's Pulwama and took the lives of as many as 40 jawans.
Later, the Jaish-e-Mohammed (JeM) claimed responsibility for the attack. Jaish is said to be based in Pakistan.
Pakistan, however, continued to maintain it had no links with Jaish.
In retaliation, India carried out an airstrike in Pakistan's Balakot -- in the aftermath of which Islamabad downed New Delhi's MiG 21 Bison fighter jet and captured IAF Wing Commander Abhinandan Varthaman.
Pakistan refuted these reports too, saying the airstrike was never attempted for any damage to have happened.
To this end, PM Modi said, "If you ask me, I think Pakistan is not yet out of the trauma they had to face. The Balakot airstrike was such a big event to have happened to them. They could not even think it could be accomplished. Unke liye donon taraf se maut thhi. Accept nahin kar saktey thhay ki airstrike huya. Kartey toh saabit ho jaata ki terror camp thha wahaan."
Prime Minister Imran Khan released Abhibandan on March 1 as a peace gesture. A day before this, Khan, in a televised address, had advised de-escalation of tension as the then prevalent condition might have led to a nuclear war.
"When it comes to nuclear power, India is known to have been a responsible nation. Atal Bihari Vajpayee signed a doctrine that said 'no first use'. It was not under any political pressure or anything. We are a responsible nation," PM Modi told Rajat Sharma.
Then, why did Pakistan release Abhinandan at all?
"Woh eik raat thhi; jis raat mein kaii raaz hain. Uss raaz ko raaz hi rehne dijiye [That night holds a lot of secrets. We shall let them be]," PM Modi quipped.
Not only Pakistan, ever since the airstrike, the entire Opposition has also been asking for a valid proof to the series of events.
Responding to this, PM Modi said, "Every citizen of the nation has the right to ask for proofs. But it is their duty to believe what the Army is saying. The Opposition has a problem. Woh maangtey hain saboot, maantey nahin. Sabse bada saboot Pakistan hai. I did not sleep that night. So I took to online and searched if there was any news regarding this. At around 5.15 am [on February 26] Pakistan tweeted that an airstrike happened. Mujhe lagaa ki kaam ho gaya aur Pakistan ne abb rona shuru kar diya."
Further in the interaction, PM Modi also spoke about what led to his meeting with former Pakistan prime minister Nawaz Sharif, his telephonic interaction the current prime minister, Imran Khan, the ongoing Lok Sabha polls and Congress chief Rahul Gandhi.