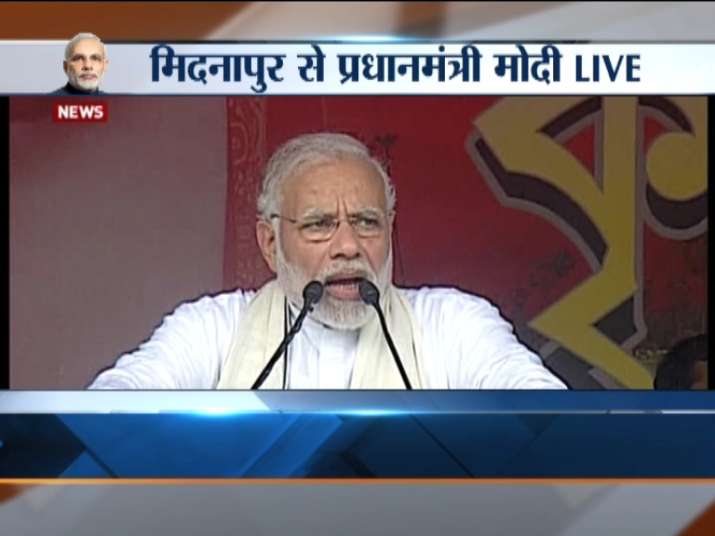 Prime Minister Narendra Modi is currently addressing Kisan Kalyan Rally in West Bengal's Midnapore, with focus on the Centre's recent decision to increase the MSP of Kharif crops. The rally, which is taking place on the Midnapore College grounds, is Prime Minister's first visit to the state this year.
"It is going to be a historic gathering. Modi ji's impending visit has created a lot of excitement and enthusiasm among party activists and leaders here," BJP National Secretary Rahul Sinha told IANS.
​"The prime minister's rally in Midnapore proves that Bengal is one of our top priority states in the Lok Sabha poll," West Bengal BJP president Dilip Ghosh said. "We want to felicitate Prime Minister Modiji for his decision to increase the MSP," he said. 
Modi in Bengal Latest Updates:
1:27 pm: Even after so many obstacles here, people in such large numbers have come here: PM Modi
1:22 pm: Courage, pledge will uproot Syndicate government in Bengal: PM Modi
1:20 pm: There are some who do not have faith in democracy, electoral process, Supreme Court,  High Court: PM Modi
1:18 pm: I hope West Bengal government will take required steps to create infrastructure for farmers, we want our farmers to use latest technology. There is an opportunity for blue revolution. Bengal farmers can take benefit of fisheries: PM Modi
1:15 pm: Our government worked for farmers, from quality seeds to market, important to have warehouse to save the produce: PM Modi
1:13 pm: Maa Mati Manush's real race and syndicate is exposed, Syndicate is for extortion, Syndicate is to kill opposition, this is the real face of Bengal government: PM Modi
1:11 pm: MSP hike by our govt historic, none paid heed during their tenures: PM Modi
1:10 pm: Govt will double farmers' income by 2022, take care of poor: PM Modi
1:08 pm: We clearly know the condition of Bengal right now. No benefits to farmers, no opportunities to youths: PM Modi\
1:04 pm: 125 crores Indians are working for New India , working for development: PM Modi
1:02 pm: PM Modi talks of MSP hike, says none had the time to do so during their tenures
1:00 pm: 'Thank Mamata didi for putting up flags, hoardings for our welcome', says PM Modi
​12:58 pm: One of the tents at Midnapore college ground breaks due to public pressure while Narendra Modi speaks
​12:57 pm: Witnessed ocean of people on my way to Midnapore, I am thankful to all of you, says PM Modi
12:28 pm: In few minutes from now, Prime Minister Narendra Modi will begin addressing farmers' rally in Midnapore
12:20 pm: The BJP leadership accused the ruling Trinamool Congress of threatening private bus operators in many districts not to provide vehicles to ferry BJP activists to the Monday rally. However, the Trinamool Congress denied the charge.
11:42 am: Bharatiya Janata Party President Amit Shah had addressed a rally in Purulia district last month, wherein he claimed that his party would win more than 22 of the 42 Lok Sabha seats in Bengal.
11:00 am: According to state BJP sources, the party is putting special emphasis on the tribal Jungalmahal area where the party won sizeable seats in the last panchayat polls. West Midnapore district is part of the Jangalmahal area. ​
10:37 am: The saffron party has made steady inroads in various districts of West Bengal and has emerged as the main opposition party in the state after the recent panchayat elections and bypolls. It is making all efforts to increase its tally in the next general election from the current two. 
10:00 am: Prime Minister Narendra Modi is all set to address farmers in Midnapore today.