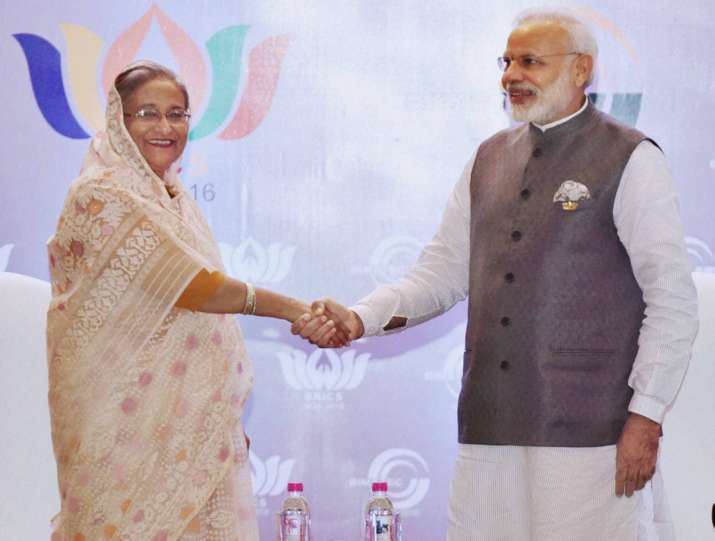 Showering praise on Bangladesh government for crackdown on terrorism after Dhaka attacks, Prime Minister Narendra Modi on Sunday told his Bangladesh counterpart Sheikh Hasina that the action is a template for other countries on how to tackle terror. 
External affairs ministry spokesperson Vikas Swarup told reporters at the BRICS Summit venue on Monday that Modi also spoke in favour of meeting leaders in the South Asian region more regularly and with minimal protocol.
"He (Modi) commended Shaikh Hasina for the very strong action that she was taking to counter terrorism in Bangladesh.
"In fact, he said that 'your battle against terrorism was yielding very positive results. You have shown us all a new template on how to fight terrorism so successfully'," Swarup said.
Modi said that "terrorism can be contained only with strong public support," MEA spokesman informed. 
"And she said that the public awareness is very high in Bangladesh against the menace of terrorism," he added.
Modi and Hasina met at the beach village of Benaulim in south Goa.
Swarup said Hasina made a detailed presentation on the various steps her government had taken in the wake of the Holey Artisan (Bakery cafe) terror attack in Dhaka in July 2016.
 Hasina told Modi how her administration contacted all the districts of Bangladesh to get everybody on the same page to unite against terror and took on board all the imams to raise their voice against terror.
"She said that now public awareness is very high in Bangladesh against terrorism. (Modi) totally agreed and said terrorism can only be contained with strong public support," Swarup said.
"(Modi) said he wants (leaders of) countries of our region should be able to visit each other at very short notice without protocol considerations coming in the way.
"That is a message the Prime Minister has also been raising in the SAARC context, just as leaders in Europe and leaders in East Asia for instance are able to meet regularly at a fairly short notice," Swarup said.
Modi said the Bay of Bengal Initiative for Multi-Sectoral Technical and Economic Cooperation (BIMSTEC) countries was significant as they represent the blue economy zone.
"In times to come, this would become a very important aspect of economic partnership and co-operation and hence the BRICS-BIMSTEC meeting was already yielding very substantive outcomes."