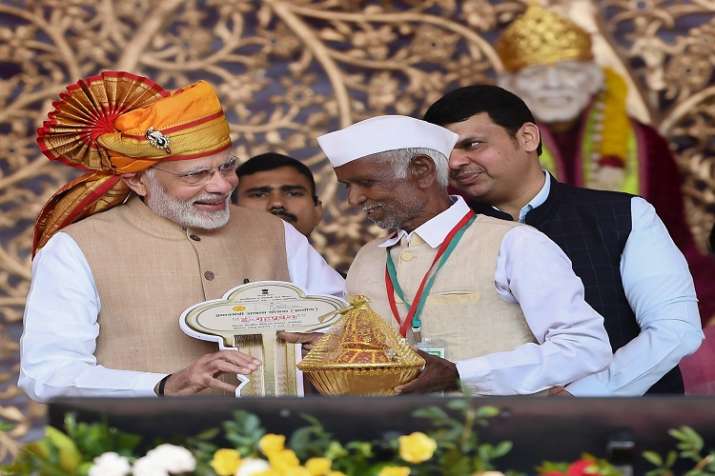 Prime Minister Narendra Modi on Friday visited Maharashtra's temple town of Shirdi to attend the closing ceremonies of a year-long festival marking the centenary of samadhi of the Shirdi Sai Baba. PM Modi  also handed over keys of houses to beneficiaries of the Pradhan Mantri Awas Yojana Gramin (PMAY-G) and interacted with them via video conference. Maharashtra governor CV Rao and Chief Minister Devendra Fadnavis were also in attendance at the functions.
The prime minister unveiled a Saibaba Centennial Commemorative silver coin, performed the bhoomi pooja of major projects like a new building, a mega educational complex costing around Rs 159 crore, a planetarium, a wax museum, a Sai Garden and theme park, worth Rs 166 crore in total, a laser sound-and-light show and a 10-MW solar power project worth Rs 39 crore, said Shri Saibaba Sansthan Trust (SSST) chairman Suresh Haware.
PM MODI FIRES FRESH SALVO AT CONGRESS, SAYS PREVIOUS GOVT WAS NOT SERIOUS ABOUT POVERTY ALLEVIATION
Addressing an event at the famous temple town of Shirdi in Maharashtra's Ahmednagar district after offering prayers at the Saibaba temple, Modi said there was a need to defeat divisive forces for all inclusive development.
He sought to highlight the difference between his and the previous governments, saying the current dispensation was working "faster" for providing shelter to the poor.
"The previous (UPA) government built only 25 lakh houses for the poor in the last four years of its rule, while the present NDA government has created 1.25 crore houses in its four-year tenure," Modi said.
He reiterated his government's aim to ensure that all the homeless get shelter by 2022, when India celebrates 75 years of Independence.
"In the last four years, the government has made serious efforts to provide proper houses to the poor living in shanties," Modi said.
"Efforts were made in the past too. But unfortunately, their sole objective was to promote the name of a particular family, instead of empowering the poor by providing shelter to them. Their aim was to create a vote-bank," he alleged, without naming anyone.
Modi said the previous government would take 18 months to build a house, while the NDA government was doing it in less than 12 months.
"Had the same (UPA) government been in power now, it would have taken 20 years to build these (1.25 crore) houses and you would have to wait 20 years to get the houses," he said attacking the previous Manmohan Singh-led government.
Besides reducing the time taken for constructing a house, the government has also increased its size as well as the monetary assistance from Rs 70,000 to Rs 1.20 lakh (for each house), the prime minister said.
"The beneficiaries are chosen in a transparent manner and the subsidy is directly transferred to the bank account of the beneficiaries," he said.
"People and resources are the same, but since our government has a clean intention of welfare of the poor, the results are also faster," he said.
Modi also talked about the Centre's 'Ayushman Bharat' healthcare scheme (also known as Pradhan Mantri Jan Arogya Yojana), saying that one lakh people were benefited within a month of its launch. The average claim made by each beneficiary was Rs 20,000, he added.
He said under Ayushman Bharat, 50 crore poor people would get free medical treatment up to Rs five lakh per year for serious ailments.
"Modern medical infrastructure is coming up in tier two and tier three cities and it is also an employment opportunity for the youth," he noted.
Observing that Maharashtra has reported deficient rainfall this year, Modi assured that the Centre would provide assistance to the state through the Prime Minister Crop Insurance Scheme.
The Prime Minister also lauded the state government's 'Jalyukt Shivar Yojana'- a water conservation scheme, saying that it helped 16,000 villages.
Modi said his government was focusing on development of tourism in places like Shirdi, Ajanta and Ellora (in Aurangabad district).
Noting that Maharashtra had produced social reformers who propagated social harmony, Modi called for the need to defeat divisive forces for all inclusive development.
BJP WORKING TO ALLEVIATE WATER CRISIS, ENCOURAGE TOURISM, SAYS PM MODI
Speaking about the water crisis that farmers across the country are facing, the prims minister said that his government is working to "complete projects that have been stuck for years under the prime minister's agricultural irrigation scheme. There are many large-scale schemes underway in Maharashtra,"
He also said that the government is committed to encouraging tourism in the state. "In Maharashtra, there are many places associated with faith like Shirdi. There are also places like Ajanta-Alora where devotees from all over the world come to visit," he said.
"I have been told that flights coming into Shirdi will be increased in frequency so that Sai devotees all over the globe can come to offer their prayers," he added.
Before the event, Modi offered prayers at the Saibaba temple and took part in an event marking conclusion of the year-long Saibaba Mahasamadhi centenary programme organised by the Shri Saibaba Sansthan Trust. According to devotees, Sai Baba took Mahasamadhi or left the mortal form on the day of Dussehra or Vijayadashami in 1918.
On the occasion, the PM also released a silver coin to commemorate Saibaba Mahasamadhi centenary year celebrations.
He also performed the ground breaking ceremony (bhumi pujan) for various projects worth Rs 485.54 crore. They include a 10 MW solar power system, anew "darshan" queue shelter worth Rs 112.41 crore and Sai Knowledge (Sai Srushti, planetarium and wax museum over 8.20 hectare costing Rs 166.39 crore).
In his message written in the visitors' book after offering prayers at the temple, Modi said, "I felt immense peace after 'darshan' of Saibaba. His message of faith and patience is one which inspires the entire humanity."
The PM said that in Shirdi, one gets to witness the spirit of equality of all religions and people from all faiths bow before Saibaba.
"I bow before Saibaba's feet with the wish that all devotees of Saibaba get his blessings and achieve happiness and peace," Modi wrote in Hindi. 
WATCH VIDEO: