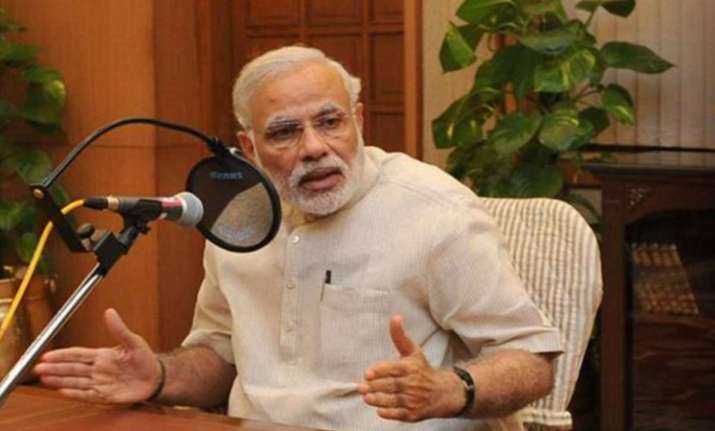 Mann Ki Baat LIVE: Prime Minister Narendra Modi on Sunday shared his thoughts with the nation on the monthly radio show 'Mann ki Baat' in its 46th edition. The programme was broadcast on All India Radio (AIR), Doordarshan and also on the NaMo App. The official YouTube channels of Prime Minister's Office, Ministry of Information and Broadcasting also streamed the programmed at 11 am. 
The programme was broadcast by Akashvani in regional languages immediately after the Hindi broadcast. People can also listen to PM Modi's 'Mann Ki Baat' on their mobile phones by giving a missed call on 1922.
During his last address, the prime minister highlighted the success of the Yoga Day and said that it has ushered a "wellness revolution"
PM Modi also referred to the Jallianwala Bagh massacre and said that violence and cruelty can never solve any problem. 
Highlights | Mann Ki Baat:
11:30 am: Mann Ki Baat LIVE: With time the popularity of the festivals continued to grow. This shows that our youth still have respect for our tradition: PM Modi
11:29 am: Mann Ki Baat LIVE: I request you to celebrate #GaneshUtsav with religious fervour in an eco-friendly manner. All materials including idols should be eco-friendly: PM Modi 
11:28 am: Mann Ki Baat LIVE: Sardar Vallabhai Patel was inspired by Lokmanya Tilak ji. On 1st August 1920, when Lokmanya Tilak ji passed away, he decided to build a memorial in Ahmedabad: PM Modi
11:26 am: Mann Ki Baat LIVE: Every Indian has the spirit of doing something for his or her roots. We all have this innate bond with our roots, which is influenced by certain factors: PM Modi
11:25 am: Mann Ki Baat LIVE: Recently, famous poet Neeraj ji passed away. He always exuded hope, faith, resolve confidence. We can draw a lot of inspiration from him: PM Modi  
11:21 am: Mann Ki Baat LIVE: 'Teachings of our saints continue to inspire us in fight against social evils', says PM Modi
​11:17 am: Mann Ki Baat LIVE: Slightest of spark rekindles the fire within. Let us examine ourselves whether external conditions have clouded our love for our roots: PM
11:14 am: Mann Ki Baat LIVE: 'Be calm and enjoy life', PM Narendra Modi's message for students entering college life 
11:10 am: Mann Ki Baat LIVE: I am sure my young friends will be very enthusiastic and happy about the beginning of this new phase of life. For the first time they will step out of their homes, move our of villages, leave a protective environment and give a new direction to their lives: PM Modi
11:06 am: Mann Ki Baat LIVE: July is the month when youngsters step in a new phase of their life. This is the time when their focus shifts from question to cut-offs, from home to hostel, from the guidance of parents to professors: PM Modi
11:04 am: Mann Ki Baat LIVE: The World is surprised at the way they didn't lose hope even in the face of death
11:02 am: Mann Ki Baat LIVE: PM Modi speaks of Thai cave rescue, lauds patience shown by parents 
11:00 am: There is news of good rains this season from some regions while some states are still waiting for monsoon: PM Modi #MannKiBaat
​Watch this space for more updates on mann ki baat live, pm modi mann ki baat, mann ki baat live streaming, mann ki baat live news, mann ki baat pm modi, pm modi on mann ki baat, mann ki baat live streaming, pm modi on mann ki baat