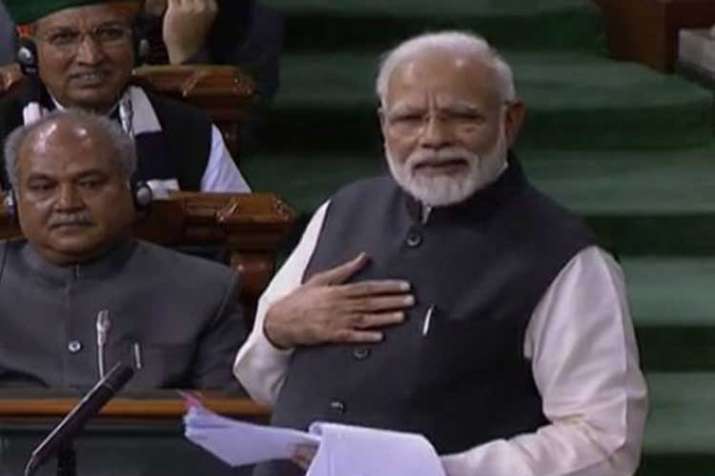 In what probably was his last speech in Lok Sabha before the 2019 Lok Sabha elections, Prime Minister Narendra Modi on Thursday minced no words as he launched a fierce attack on the Congress. Replying to a debate on motion of thanks to President's address, PM Modi charged the Congress insulting the Army while asserting that his government is known for honesty and transparency. 
PM Modi said in poll year, leaders have compulsions to make charges but lamented that while slamming Modi and BJP, some people "start attacking India".
"Congress imposed Emergency, but they say Modi is destroying institutions. Congress insults Army, calls the Army chief a 'goonda' but they say Modi is destroying institutions," the PM said.
Also Read: PM Modi launches brutal attack on Congress in Lok Sabha | Top Quotes
PM Modi said that the Congress misused Article 356 to dismiss state governments several times. "Indira Gandhi herself dismissed state governments 50 times," he went on to add.
Taking a dig at the Opposition's recent rally in Kolkata organised by West Bengal Chief Minister Mamata Banerjee, PM Modi said people of India have seen the work a government with a full majority can do.
"They do not want a 'mahamilawat' (adulterated) government of those who assembled in Kolkata. A government has to work for the people of India, a government has to be sensitive to the people's aspirations. There is no room for corruption. We speak truth, be it in country or outside, in
Parliament or outside but your ability to listen to truth has diminished," he said.
Slamming the Congress for doing little for the country in decades of its rule, PM Modi said that Dr. BR Ambedkar had once said that joininf the Congress was considered to be 'akin to suicide'.  
WATCH: Aaj Ki Baat - Full Video
PM Modi also hit out at Congress president Rahul Gandhi over the Rafale jet deal, saying the Oppositionp party does not want the Air Force to be strong. 
"I want to say it on the floor of Parliament that the Indian National Congress doesn't want our armed forces to be strong. They don't want our security apparatus to be strong. Which companies are they bidding for that they are acting so shamefully," PM Modi said in Lok Sabha.
"I assure you, those who have looted the nation will continue to be scared of Narendra Modi," the PM said in his nearly 100-minute speech and vowed to come down hard on those indulging in corruption.
WATCH: PM Modi's full speech in Lok Sabha