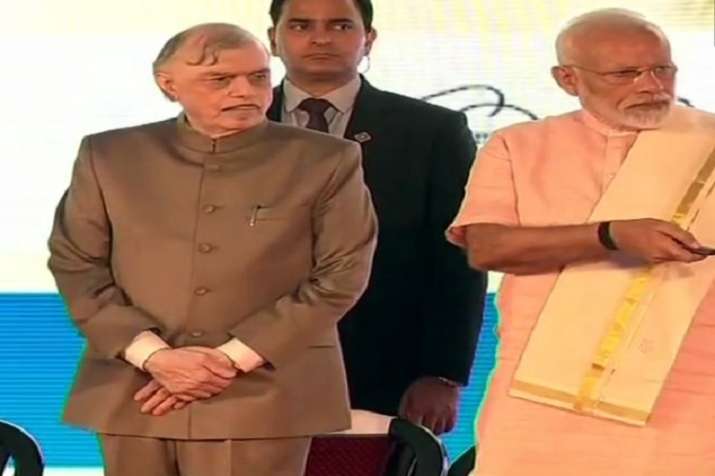 Prime Minister Narendra Modi on Sunday unveild an integrated Bharat Petroleum Corporation Limited (BPCL) refinery expansion complex and dedicated the Rs 16,504 crore single largest investment.
PM Modi also laid the foundation stone of the complex which is a complete "Make in India" initiative aimed at reducing dependence on imports.
Addressing the gathering, PM Modi said that the Integrated Refinery will become the largest industrial unit in the coming years.
"Over one crore customers have given up LPG subsidy, which has helped many to dump firewood. Also, by doubling the LPG production, the Kochin refinery will make a great contribution towards Ujjwala"; PM Modi stated.
He also dedicated the Mounded Storage Vessel of the Indian Oil Corporation Limited and laid the foundation stone of a Skill Development Institute, promoted by the Ministry of Petroleum and Natural Gas.
 Modi also addressed a state meeting of the Yuva Morcha in Thrissur. He will return to Delhi later in the evening.
"We're very close to our goal to provide a cooking gas connection to every home. Nearly 6 crore poor women have received free cooking gas connection. India's energy needs are growing, so we've speeded up development of oil & gas infrastructure"; PM Modi said.
Lashing out at the Pinarayi Vijayan-led LDF government, PM Modi said; "The cultural ethos of Kerala is under attack, but unfortunately the governing party is responsible for this".
On Sabarimala temple issue, PM Modi said that the way the LDF government handled the entire row was just unfortunate.
"The entire Opposition, be it Communist Party or the Congress have zero regard for any institution. They are also questioning the Election Commission", PM said on the EVM hacking row.
"Congress and LDF talking about democracy is the biggest joke. People and party workers are being killed because they don't follow their ideologies"; PM Modi said.
This was PM Modi's second visit to Kerala this month. 
WATCH VIDEO:
(With IANS inputs)