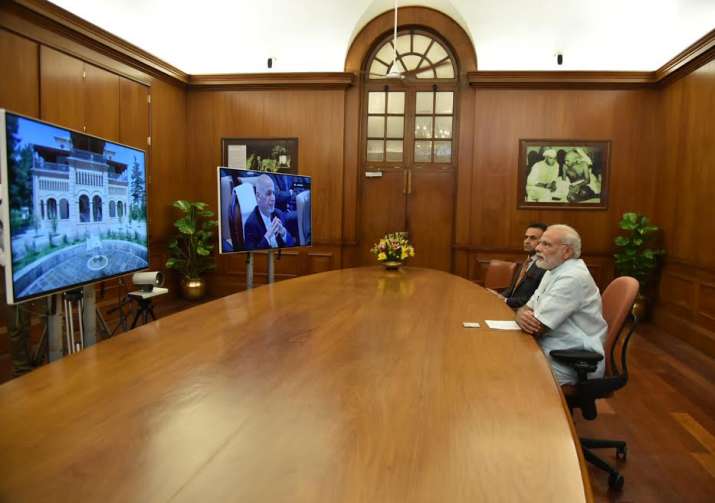 Prime Minister Narendra Modi on Monday assured Afghanistan that 1.25 billion people will "always" stand with the neighbouring country in ensuring peace and prosperity. The comments came during the joint inauguration of the restored Stor Palace in Kabul with Afghan President Ashraf Ghani through video conferencing. 
"Afghanistan is a close friend. Our societies and people have had age old ties and links. It, therefore, saddens us to see that your proud nation continues to be challenged by externally sponsored instruments and entities of violence and terror, PM Modi said. 
"Let me assure the people of Afghanistan that in your quest to build a prosperous Afghanistan and to bring peace, security and stability to your society, the 1.25 billion people of India will always be on your side," he said. 
Modi, while speaking from his North Block office here, stressed that "whatever may be the odds, India will work with you for a bright future for all Afghans". 
"The pledge of our partnership and strength of our friendship with Afghanistan is unwavering. Today's event is a testimony to the resolve and range of our cooperative endeavours. We want each Afghan to flourish and your society to be benefited from fruits of economic growth," he said. 
The Prime Minister underlined that "in our hearts and minds Indians and Afghans have always been closest of friends." 
Modi also thanked the Afghan government for "protecting Indian Embassy and Consulates and ensuring the safety and security of Indian experts working in Afghanistan." 
"The sacrifices made by our Afghan brothers will not be forgotten," the Prime Minister said. 
Recalling inauguration of Afghan Parliament, Modi said, "In December last year, you (Ashraf Ghani)and the Afghan people stood with me to inaugurate the Afghan Parliament."
Modi said that the inauguration signaled and showed both countries' joint commitment to strengthening the foundations of modern Afghanistan.
Speaking about the Salma dam, which was inaugurated in June this year, Modi said, "We joined hands and inaugurated the Afghanistan-India Friendship Dam. The Salma dam will revive and renew not just the economy and agriculture of the Herat region of Afghanistan.But will also build a strong and lasting pillar of support for Afghanistan's overall growth and development."
Commenting on today's inauguration of Stor palace, Modi said that this was an entirely different occasion  but was more fundamental of the engagement between the two nations. He added that the restoring of the palace brings back to life a valuable landmark of Afghanistan's cultural heritage. 
"The Stor palace has been the setting for many momentous historical events. To those who cannot see beyond shadows of violence in Afghanistan, the restored Stor palace is a reminder of the glory of Afghanistan's rich traditions. And for our Afghan brothers and sisters, it revives the beauty, the richness and splendor of lost memories of Afghan society," PM said. 
"True to the foundations of our ties, it links the present of our friendship to the historical bonds of our linkages.I must commend all the artists, experts and consultants who worked day and night to accomplish this delicate task," he added. 
On his part, Ghani said the "logic" of peace and benevolence will defeat the logic of terror and violence as he said India and Afghanistan have always been close friends and joint initiatives like these are a fruitful journey of cooperation between the two nations.