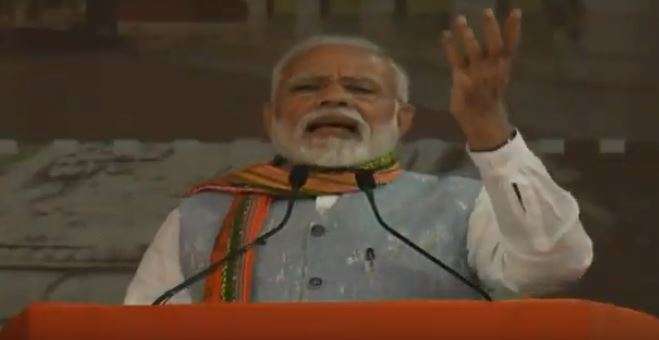 Weeks ahead of the announcement of the 17th Lok Sabha election schedule, Prime Minister Narendra Modi on Saturday visited three northeastern states - Assam, Arunachal Pradesh and Tripura.The Prime Minister arrived at Guwahati airport and from there he reached Itanagar, following which he headed to Agartala in Tripura. Modi inaugurated and laid foundation stones for several infrastructure projects in the three northeastern states.
In Arunachal Pradesh, Modi laid the foundation for the greenfield airport in Hollongi (in Papum Pare district near Itanagar) and then he addressed a public meeting. 
Here are the LATEST Updates:
5:06 pm: Mahamilawat only concerned about hurling bigger abuses at me, says PM in Agartala, Tripura
5:03 pm: Olympics going on to abuse Modi, says PM in Agartala, Tripura
5:00 pm: Mahamilawat abhiyaan going on, says PM Modi in Agartala, Tripura
4:57 pm: 'Mahamilawat' constituents want to make 'majboor' govt, says PM Modi in Agartala, Tripura
4:56 pm: Did Gomti river come after Modi? Seems like the previous govt couldn't see it, says PM Modi in Agartala, Tripura
4:55 pm: I've been advocating HIRA- Highway, I-way, Railway, Airway, says PM Modi in Agartala, Tripura
11:14 am: Tezu airport was built over 50 years but no govt envisioned to connect people of this state with other parts of the country. We expanded the airport by spending around Rs 125 crore : PM
11:12 am: Today I got the opportunity to inaugurate or lay foundation of projects worth Rs 4,000 crore. Additional projects worth Rs 13,000 crore is in progress in the state : PM 
11:09 am: Our govt allocated Rs 44,000 crore fund to Arunachal Pradesh which is double the amount provided by the previous govt : PM
11:05 am: People will benefit from UDAAN Yojana, says PM.
11:00 am: Tezu airport is ready to give services to the people of Arunachal, says PM Modi.
10:59 am: New India will only develop when north-east develops:PM Modi
10:24 am: PM Modi was shown black flags in Guwahati.
10:00 am: PM to inaugurate DD Arun Prabha in Arunachal
Modi would reach Agartala the same day (Saturday) where he would unveil a statue of Tripura's late king Maharaja Bir Bikram Kishore Manikya at the airport and inaugurate an extended railway line and open an academic building of the Tripura Institute of Technology.
The union government in July last year had renamed the Agartala airport after Maharaja Bir Bikram Kishore Manikya (1923-1947) as a tribute to the last ruler of the erstwhile princely state.
In 1942, the king constructed the airport, which played a crucial role in the Second World War.
The Agartala airport, earlier known as Singerbill Airport, is located 20 km north of the capital city and sits along the Bangladesh border.
An official release said the Agartala airport is the second busiest airport in the northeastern India and provides crucial air connectivity in the region linking Kolkata and other major airports in the country.
He will also address a public gathering at the Swami Vivekananda Ground in the capital city.
Tripura Chief Minister Biplab Kumar Deb told the media that a record number of people from across the state would attend the Prime Ministrer's public gathering here.A
This is Modi's second visit to Tripura after BJP-Indigenous People's Front of Tripura (IPFT) alliance government assumed office on March 9 after trouncing the Communist Party of India-Marxist led Left Front government in the February 18 assembly polls.A
During the visit, tribal parties, including the IPFT, are likely to submit a memorandum to Modi demanding withdrawal of the Citizenship (Amendment) Bill.
However, the opposition tribal parties led by Indigenous Nationalist Party of Tripura (INPT) are holding a series of meetings to chalkout their strategies during the Prime Minister's visit.
INPT General Secretary Jagadhish Debbarma told IANS that the tribal parties, excluding the IPFT and CPI-M's Tripura Rajya Upajati Ganamukti Parishad, would conduct some agitational programme in support of their several issues including withdrawal of the Citizenship (Amendment) Bill.
Political analyst Sekhar Datta said that amidst agitations against the Citizenship (Amendment) Bill, 2016 in several northeastern states, specially in Assam, Manipur, Meghalaya, Mizoram and Tripura, Prime Minister's visit to the region is very significant.
"Prime Minister during his visit to the northeast, first time after the outbreak of the agitation against the Citizenship (Amendment) Bill, might give a message that his government is always for the welfare of the people of the region," Datta told IANS.
Elaborate security arrangements have been made in view of the Prime Minister's visit to Arunachal Pradesh and Tripura.
Large contingents of central paramilitary forces besides state forces have fanned-out in both the states besides Assam's main city of Guwahat.
(With inputs from IANS)