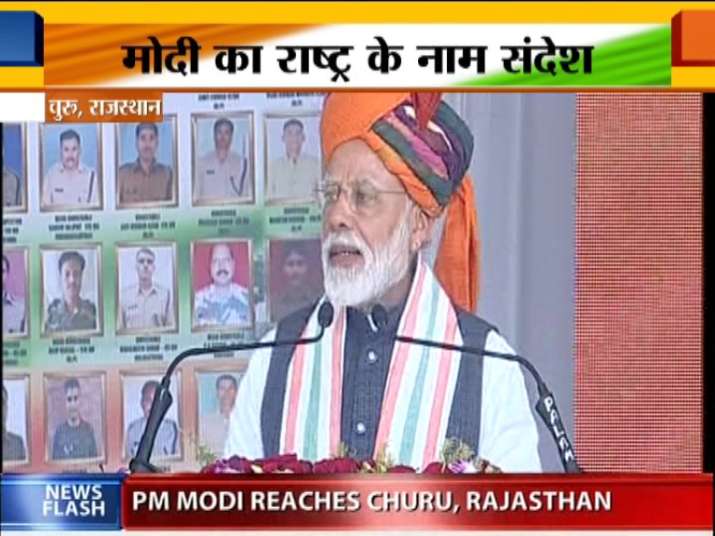 Prime Minister Narendra Modi on Tuesday said that he will not let the country down under any circumstances.
PM Modi's statement assumes significance as it comes after 12 Mirage 2000 jets crossed the LoC and bombed Balakot-based  training camp of Jaish-e-Mohammed (JeM) to avenge Pulwama terror attack.
"I will not let the country down. The country is in safe hands," PM Modi said while addressing a public rally at Churu in Rajasthan.
The prime minister also said that Rs 7.5 Lakh Crore will be deposited in the accounts of farmers within next 10 years.
"They will not have to do anything for it. They will directly get a notification on their mobile phones, saying that they have received the amount," he said.
PM Modi's visit to the Shekhawati region assumes significance in the wake of the Pulwama terror attack in which 40 CRPF personnel were martyred. Large number of people from Shekhawati region have been joining armed forces for a long time. 
The prime minister addressed the rally at the police line in Churu. Former Rajasthan chief minister Vasundhara Raje Scindia and other prominent local leaders of the region were also present on this occasion. 
PM Modi's visit assumes political significance too as it comes ahead of the Lok Sabha elections. PM Modi's rally will have impact in around 5 Lok Sabha seats including Bikaner, Sriganganagar-Hanumangarh, Jhunjunu and Sikar.
The region covers 40 assembly constituencies out of which 13 are represented by the BJP in the present assembly while 22 seats have Congress representatives. 
Security has been tightened in Churu in view of PM Modi's visit. 3200 jawans of police and SPG have been deployed in and around the venue.