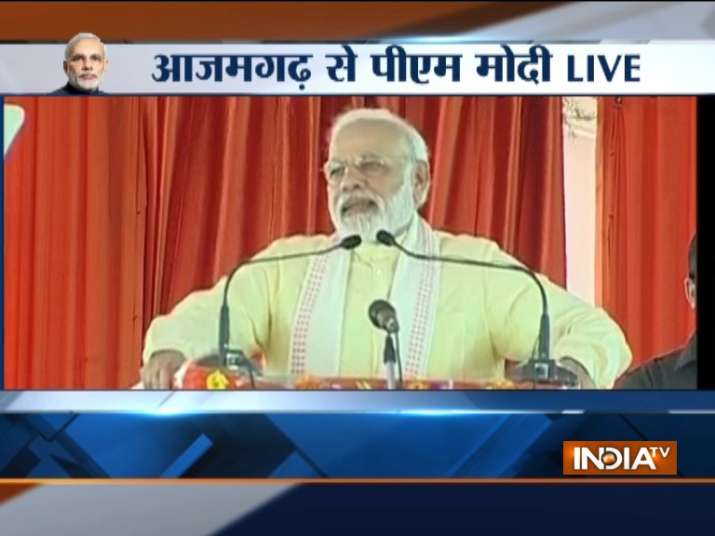 Taking a jibe at Rahul Gandhi for his reported remark that Congress is a party of Muslims, Prime Minister Narendra Modi on Saturday asked the Congress president to clarify whether his party belongs only to male members of the  Muslim community.
Slamming Congress for not speaking out on issues like triple talaq that concern Muslim women, PM Modi said,"I have read in newspaper that Congress president has said that Congress is a party of Muslims, I am not surprised by this. All I want to ask is, whether their party is only for Muslim men or for women too?"
"The stand of these parties on triple talaq have exposed them. On one side the Centre is trying to make the lives of women easy, on the other side these people have grouped together to make the lives of women, especially Muslim women, difficult," PM Modi said while addressing a rally in Azamgarh.
Attacking the efforts of Congress and other opposition parties to cobble up a grand-alliance ahead of 2019 Lok Sabha elections, PM Modi said,"Those who didn't even like looking at each other earlier, are now chanting Modi Modi. These people, out on bail, along with the dynastic parties now want to create obstacles on your path to development."
Lauding UP Chief Minister Yogi Adityanath, PM Modi said that he is an able administrator who has made immense contribution to the development of the state.
"BJP govt is working to create an environment of development in UP. What Yogi ji did by putting a check on crime & corruption, bringing investments to the state & making business easier for small traders, is commendable," he said.
Earlier in the day, the prime minister laid the foundation stone for Rs 23,000-crore Purvanchal Expressway. 
The 340-km-long six-lane  expressway will provide a smooth ride between Lucknow and Ghazipur in eastern UP.
"Purvanchal Expressway will take UP, especially Eastern UP, to greater heights. More than Rs 23,000 Crore will be spent on it. All the cities, towns and places falling in the route will experience a change,"PM Modi said.
After becoming prime minister, this was Modi's first public appearance in Azamgarh, which has proved a challenge to the BJP. 
The party swept the 2014 Lok Sabha election in UP but lost the Azamgarh seat to former Samajwadi Party chief Mulayam Singh Yadav.
The prime minister said the expressway will also boost tourism at places of historical significance.
Modi stressed that connectivity was necessary for development and said the national highway network in UP had almost doubled in the last four years.
He reiterated his vision of "Sabka Saath, Sabka Vikas", and spoke about development initiatives such as PM Awas Yojana and PM Gram Sadak Yojana.
He said the recent increase in the minimum support price (MSP) of kharif crops will immensely benefit farmers and also mentioned the Centre's initiatives for weavers in this region.
The six-lane Purvanchal Expressway, expandable to eight lanes, will connect Lucknow with the economically less developed districts like Azamgarh, Mau, Ghazipur, Faizabad, Sultanpur, Ambedkar Nagar and Amethi.
The expressway will bring about development of UP's eastern districts by connecting them to the state capital and further to Agra and New Delhi, through the Lucknow-Agra Expressway and the Yamuna Expressway, officials said.
The expressway will begin from Chand Sarai village on Lucknow-Sultanpur road (NH 731) and end at Haidariya village in Ghazipur district, about 18 km from the UP-Bihar order.
Hours before the inauguration of the project, Samajwadi Party chief dismissed it as a relaunch of a project which he had inaugurated as the previous chief minister of the state.
Watch: PM Modi addresses rally in Azamgarh