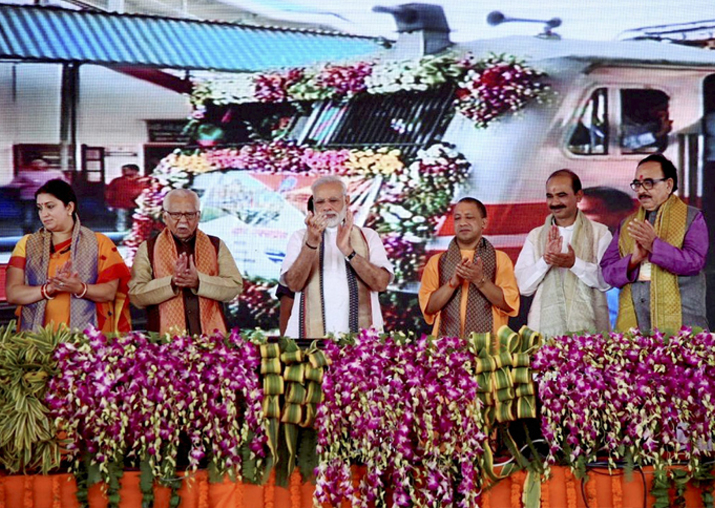 Prime Minister Narendra Modi on Friday flagged off the new Varanasi-Vadodara Mahamana Express via videoconferencing and gifted schemes totalling Rs 1,000 crore to his Lok Sabha constituency.
Modi, who is on his first visit to Varanasi after the BJP's landslide victory in the Assembly elections in Uttar Pradesh in March this year, said that development was the solution to all the problems in the country and accused the previous governments of destroying the public exchequer in their bid to win elections.
"Pehle aisi sarkarein aa ke gayi jinko vikas sey nafrat jaisa mahaul tha. Unke liye sarkari tijori chunao jitney ke karyakramo mein tabah ho jaati thi (Governments in the past were such that they seemed to hate development. For them, national exchequer was destroyed in the task of winning elections)," he said. 
Targeting the previous governments, Modi alleged they were driven by political calculations, resulting in schemes being inaugurated but never seeing completion. "We not only launch but also complete projects." 
Earlier in the day, Modi arrived here by a special Indian Air Force aircraft on a two-day visit to his parliamentary constituency Varanasi amid tight security.
Railway Minister Piyush Goyal was present in Vadodara in Gujarat, while Minister of State for Railways Manoj Sinha was present in Surat during the flagging-off ceremony. The train, on its inaugural service, will be run as a special train -- departing from Vadodara on Friday and reaching Varanasi on Saturday.
The Mahamana Express, with plush interiors, currently runs on the Varanasi-New Delhi and Bhopal-Khajuraho routes. The new weekly train will start from Varanasi every Friday and from Vadodara every Wednesday. The 1,531-km journey between the two cities will take 27 hours and 30 minutes. The train will stop at Bharuch and Surat in Gujarat; Amalner and Bhusawal in Maharashtra; Itarsi, Jabalpur, Katni and Satna in Madhya Pradesh and Chheoki in Uttar Pradesh.
The Mahamana Express will have one AC Ist Class coach, two Second AC, eight sleeper and four general coaches, one pantry car and two guard brake vans. There is no AC-3 tier coach in the train. The features in the Mahamana Express include ergonomically designed ladders for climbing to upper berths, snack tables for side berths, windows with powered venetian blinds and roller blinds, LED lights as berth indicators, LED reading lights, fire extinguishers in all coaches and an electrically operated chimney in the pantry car. The train's toilets have platform washbasins, bigger mirrors, an odour control system, exhaust fans and dustbins.
Asserting that his government's effort was to empower the poor, he said, "Our aim is to see that the dream of development is fulfilled and lives of poor changes and they get opportunities." 
Modi said even the poor people do not want their future generations to eke out a living like themselves. "No poor person wants to give their children their poverty in inheritance."
He said his government shares their dream and is working to realise it. "Our government has a dream to wipe out poverty. India is progressing very fast, now we will strive to ensure development of eastern Uttar Pradesh and the eastern region."
He inaugurated the Deendayal Hastkala Sankul - a trade facilitation centre for handicrafts and crafts museum - constructed at a cost of Rs 300 crore. 
Referring to development projects for weavers, who constitute a major chunk of the population in the city, Modi said his government wants their works to be showcased globally so as to enhance their economic prospects. At the Deendayal Hastkala Sankul, Modi evinced keen interest in the wooden and glass products on display and talked to the rural artisans to encourage them. 
The Prime Minister said his government has started initiatives to connect waterways for economic develoment. 
Utkarsh Bank
Modi also inaugurated banking services of the Utkarsh Bank and unveiled a plaque to mark the laying of foundation stone of the headquarters building of the bank which specializes in micro-finance. 
Earlier, the PM showered praise on Chief Minister Yogi Adityanath, saying he was doing wonders. "Cheh mahine mein Yogiji ne kamaal kiya (In his six months in office, Yogi has done wonders)," Modi said and thanked him for his laudable achievements. 
Speaking on the occasion, Adityanath said, "The state government is implementing schemes for development of the farmers, youth and villagers while drawing inspiration and guidance from the Prime Minister." 
The roadmap prepared by the textiles ministry will benefit lakhs of weavers of eastern UP, he said. Union Textiles minister Smriti Irani said, "It is indeed a moment of happiness for textile ministry that the Rs 300 crore Deen Dayal Hastkala Sankul has been unveiled by the Prime Minister."