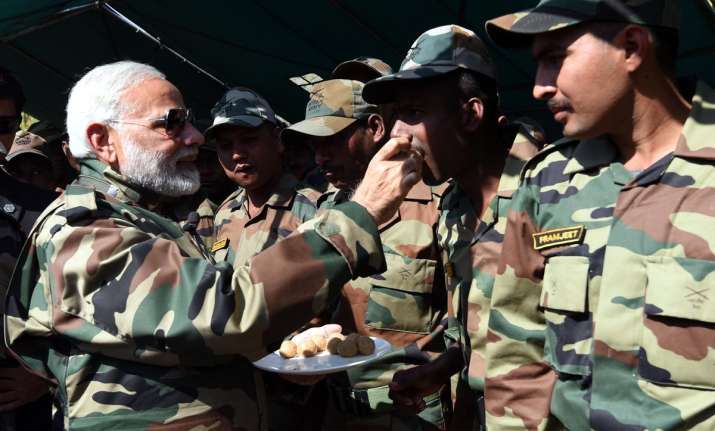 Prime Minister Narendra Modi today visited Gurez Sector along LoC in Jammu and Kashmir to celebrate Diwali with security forces.
PM Modi was joined by Army Chief General Bipin Rawat who was camping in the Gurez sector since Wednesday. Northern Command chief Lt General Devraj Anbu and Chinar Corps Commander Lt Gen J S Sandhu were also in Gurez accompanying the prime minister. Gurez sector is the gateway of Gilgit-Baltistan area.
Narendra Modi has been celebrating Diwali with security forces every year after he took over as the prime minister of the country. 
Highlight of PM Modi's speech at Gurez Sector:
03:34 pm: Even when I was the Chief Minister, I celebrated every Diwali with security forces: PM Modi
03:33 pm: Our government is committed to the welfare and the betterment of the Armed Forces, in every way possible: Prime Minister 
03:32 pm: The people of this country have high regard for security forces, be it BSF, CRPF, Army or any other: PM Modi
03:31 pm: If we all take a resolution and work on it, then 125 cr Indians will bring India ahead by 125 cr steps by 2022, when we celebrate 75 years of Independence: PM Modi  
Spending time with our Forces gives me new energy. We exchanged sweets & interacted. Happy to know the Jawans practice Yoga regularly. pic.twitter.com/zvHmaO8bPv

— Narendra Modi (@narendramodi) October 19, 2017
03:30 pm: Jawans who leave the Armed Forces can become excellent yoga trainers post-retirement: PM Modi 
03:29 pm: I believe Yoga will definitely enhance your abilities, and give you a sense of calm: Modi
03:28 pm: I have been told that the jawans present here regularly practice Yoga: PM Modi
03:27 pm: I get new energy when I spend time among the jawans and soldiers of the Armed Forces: PM Modi 
03:26 pm: I too wish to spend Diwali with my family and that is why I am among the jawans of the Armed Forces, whom I consider to be my family: PM Modi 
In 2014, he celebrated Diwali with security forces at Siachen. In 2015, PM Modi celebrated Diwali with jawans in Amritsar at Dogra war memorial. In 2016, the prime minister celebrated Diwali with ITBP jawans in Himachal Pradesh. And this year, he celebrated Diwali with jawans in Gurez sector along LoC in Jammu and Kashmir.  
Prime Minister Modi had spent Diwali with the people of Kashmir in 2014 in the aftermath of the devastating floods in the Valley.