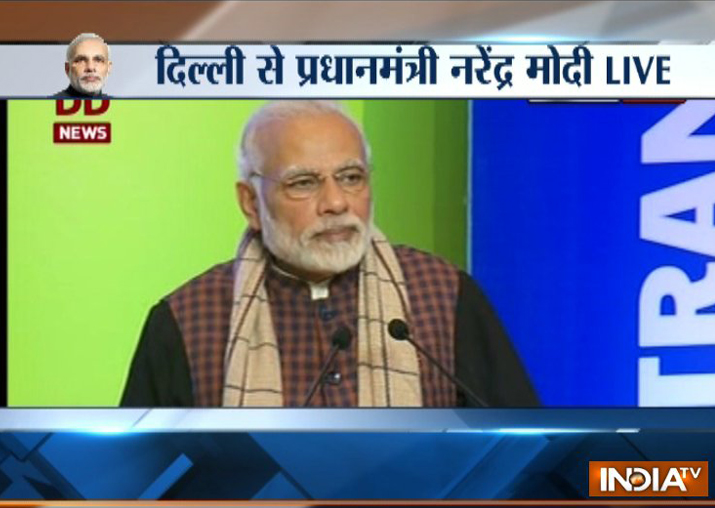 PM Narendra Modi today addressed the Conference on Transformation of Aspirational Districts at the Dr. Ambedkar International Centre in New Delhi. He also interacted with officials in-charge of transformation of over 100 districts.
The Union Government has embarked upon major policy initiatives for the rapid transformation of districts that are lagging on specific development parameters.
Senior Government officials have been designated as officers in-charge, to coordinate the efforts of the Centre and the States in addressing the specific developmental needs of these districts.
Highlights of PM Modi's speech: 
On 14th April we celebrate the Jayanti of Dr. Babasaheb Ambedkar. Let us devote these coming three months to pioneering innovation in the less developed districts and transform the lives of the poor: PM @narendramodi

— PMO India (@PMOIndia) January 5, 2018
6:35 pm: Serving in less developed districts may not be glamorous but it will give an important platform to make a positive difference: PM
6:27 pm: Development of every village of 115 districts is part of commitment of social justice which Dr. Babasaheb Ambedkar dreamt of: PM Modi
* Dr BR Ambedkar fought for social justice throughout his life: PM Modi
बाबा साहब जीवन भर सामाजिक न्याय की लड़ाई लड़ते रहे: @narendramodi, प्रधानमंत्री pic.twitter.com/9E2ZsOMtVs

— दूरदर्शन न्यूज़ (@DDNewsHindi) January 5, 2018
6:18 pm: No country has achieved such a massive jump in Ease of Doing Business. India achieved 100 ranking which is a jump of 42 points in 2017. 
6:17 pm: No matter how developed a state is, there are always some areas that lack development. We aim to bring forward such areas.
6:16 pm: All round and inclusive development is essential. Even in the states with strong development indicators there would be areas which would need greater push for development.
6:15 pm: We will have to position India in global arena in such a manner that India becomes attractive destination.
6:11 pm: Banks were nationalized but that did not give the poor access to them. We changed that through the Jan Dhan Yojana. We proved that when people decide to bring a positive change, it can be achieved.
6:05pm: Our system, officials showed that it is possible to bring electricity to villages at a record pace and it is possible to build toilets in our cities as well as villages at historic speed.
5:58 pm: Apart from the hygiene issue, we have also been able to provide electricity to a number of areas and villages,
5:55 pm: It is an achievement that India has progressed to number 100 from number 142 in a span of just 1 year. This has been possible with all your efforts and contributions.
5:54 pm: We were struggling with many social problems, construction of toilets in villages and schools have helped people overcome those.
5:52 pm: Banks were nationalized but that did not give the poor access to them. We changed that through the Jan Dhan Yojana. We proved that when people decide to bring a positive change, it can be achieved: PM Modi
​
Once the people of India decide to do something, nothing is impossible: PM @narendramodi

— PMO India (@PMOIndia) January 5, 2018