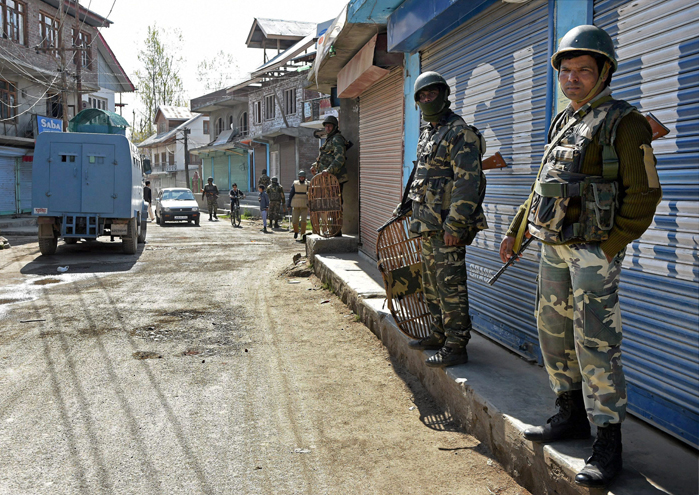 The security forces in Jammu and Kashmir are likely to use non-penetrative plastic bullets for crowd control or stone-pelting mobs to reduce collateral damage during counter-insurgency operations.
However, the pellet guns will continue to be used as the last resort in the non-lethal category. 
Thousands of plastic bullets were produced and sent to the Kashmir Valley for use by the law enforcement agencies, official sources said. 
The plastic bullets are non-penetrative and can be fired from INSAS rifles, the sources said.
The Home Ministry today issued Standard Operating Procedures (SoPs) for security agencies deployed in the Valley and directed them to use pellet guns as the second last resort.
Security forces often face violent protests and stone pelting mobs, especially during stiff resistance from the locals, when they are engaged in gunfight with militants, who at times manage to escape with the help of the crowd. 
Other non-lethal weapons to control mobs
So far, security forces are using PAVA shells and pellet guns, the last option in the non-lethal category before the use of assault rifles, to control the mobs. 
PAVA (Pelargonic Acid Vanillyl Amide) is a chilli-based ammunition, which is less lethal and immobilises the target temporarily. 
Other less-lethal weapons used include dye marker grenade with irritant which causes sensory trouble to the target once fired. It leaves a dye mark on the troublemakers for easy identification. 
An new entrant to the arsenal of non-lethal weapons is a grenade packed with scientifically prepared spicy jelly, which on exploding, causes irritation in the eyes. 
Oloeoresin, a semi-solid extract in a solution, mixed with spicy gel, could be put in the grenade casings to tackle rioting mobs, sources said. 
Calling the damage caused by pellet guns an issue of "life and death", the Supreme Court had last month told the government to come up with suggestions regarding effective alternatives. 
Three civilians were killed last month during protests in Chadoora in Kashmir when a mob made attempts to obstruct an ongoing anti-militancy operation in the area. 
Army chief General Bipin Rawat had earlier warned of tough action against protesters who hurled stones at security personnel engaged in anti-militancy operations or targeted their families.
Centre mulling various options for JK, including talks 
The Centre today reviewed the security situation in Jammu and Kashmir where various options, including initiating peace talks, to bring back normalcy in the restive Kashmir Vally were discussed. 
The meeting, chaired by Union Home Minister Rajnath Singh and attended by NSA Ajit Doval besides others, took stock of the prevailing situation in the state, which saw massive violence during the April 9 bypoll to Srinagar Lok Sabha seat. 
The top brass was given a detailed presentation on the critical situation the Kashmir Valley is facing and the steps taken to restore normalcy there, official sources said. 
During the meeting it was discussed whether peace dialogue with any separatist groups wielding influence on the protesters could be initiated. 
(With PTI inputs)