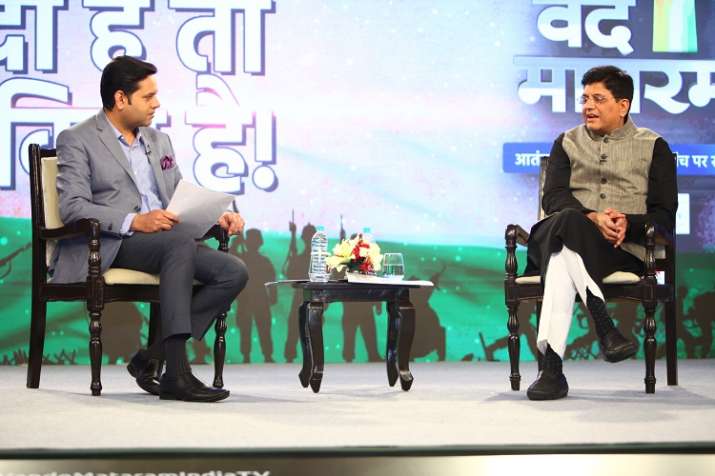 Minister of Railways Piyush Goyal on Saturday said that India needs a strong and decisive prime minister like Narendra Modi to combat terrorism. Speaking at IndiaTV's mega conclave on terrorism - 'Vande Mataram', Goyal said the strike on terror camps in Pakistan was possible only because of PM Modi's leadership. 
Follow Live Updates of Vande Mataram 2019
Condemning the Pulwama terror attack and the recent attack in New Zealand's Christchurch, Goyal said that it is only under PM Modi's governance, India can be safe and secure.
"The real face of terrorism is horrifying. The nation is scared and sometimes I feel that politics is being used to see terrorism as well, which is sad. If we want peace in the county, we need a person like Narendra Modi to lead the country," said Piyush Goyal at IndiaTV's Vande Mataram Conclave.
"To deal with terrorism, India needs a strong decisive PM, which India can get only in PM Modi. People feel Modi hai toh Mumkin hai, people know that Modi hai toh people are safe, the country is in safe hands." 
Also Read: Valour of our defence forces should not be an election issue: Arun Jaitley
The union minister lambasted Congress president Rahul Gandhi and cited the 2008 Mumbai terror attacks, questioning as to why didn't the defence forces take action at the time.
"Rahul Gandhi calls PM Modi 'darpok' but can they give a better example of someone enabling the defence forces? Congress was in power in 2008, why did they not allow defence forces to take action them. It enrages Indian people when they see India keeping quiet after a terrorist attack," Goyal said. 
Also Read: India must boycott China economically, says Ramdev
Goyal further said that the questions raised by the Congress party demoralises the country's armed forces. He said it was unfortunate that some opposition parties are raising doubts on the valour of the Indian defence forces.
"We never politicised Pulwama terror attack. We invited all parties to present a united stand against terrorism, but unfortunately, today some parties are raising doubts on the valour of Indian defence forces," Goyal said.
"Congress is called anti-national because questions raised by them demoralise defence forces," Goyal added.