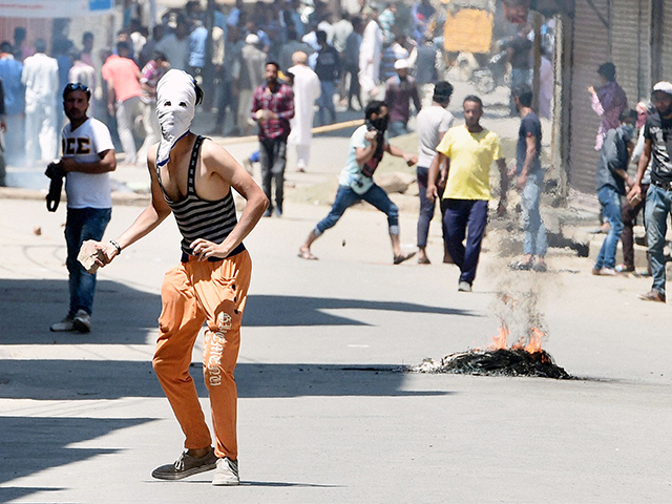 The National Investigation Agency (NIA) on Monday arrested seven leaders of Hurriyat and other factions of separatists, including Altaf Ahmed Shah, the son-in-law of hardline separatist leader Syed Ali Shah Geelani, in connection with its probe into the funding of terror and subversive activities in the Kashmir Valley.
According to a Times of India report, the arrest of separatist leaders comes after the NIA found evidence of their telephonic conversation with some 48 Jammu and Kashmir youths who have been tracked repeatedly amid stone-pelting mobs over the past year.
The telephonic conversations revealed that these 'habitual' were in constant touch with local and mid-level Hurriyat leaders, who are believed to be connected to top separatists. It was also found that there was a terror-funding pattern with the top leaders passing funds to local leaders who would pay the youth to pelt stones and unleash mob violence. 
The NIA analysed phone number active at locations witnessing stone-pelting protests intended to disrupt encounters between the security forces and terrorists. The investigation zeroed in at several common participants, with some of them present at as many as eight different locations at different times since July 8, 2016. 
Focusing on youth present at three or more stone-pelting locations, the NIA drew up a list of 48 'habitual' stone-pelters and tracked their phone call records as well as social media activity. 
Many on the list were found to be in frequent touch with local and mid-level Hurriyat leaders. The telephonic connections of the latter extended to top leaders of Hurriyat, particularly from the hadline faction led by Syed Ali Shah Geelani. 
"Phone call details of the alleged stonepelters show them to be in conversation with Hurriyat leaders with differing frequency over the past 11 months. We now seek to substantiate this technical evidence with investigation on the ground, starting with custodial interrogation of the seven Hurriyat leaders," an NIA officer was quoted by Times of India as saying. 
"The technical evidence unearthed by NIA shows several layers of communication-...there are multiple contacts between the seemingly 'professional' stone-pelters and the top Hurriyat leaders. Also, there is prima facie evidence of cash transfers from the Hurriyat leaders to the stone-pelters, indicating an 'organised' angle to the mob violence that followed after Hizbul Mujahideen terrorist Burhan Wani's killing on July 8, 2016," he added. 
Those arrested have been brought to Delhi and will be produced before a court here today.
For the the first time since the rise of militancy in Kashmir in the early 1990s, a central probe agency had carried out raids in connection with the funding of separatists. 
In 2002, the Income Tax department had raided the establishments of some separatist leaders, including Geelani, and seized cash and documents.