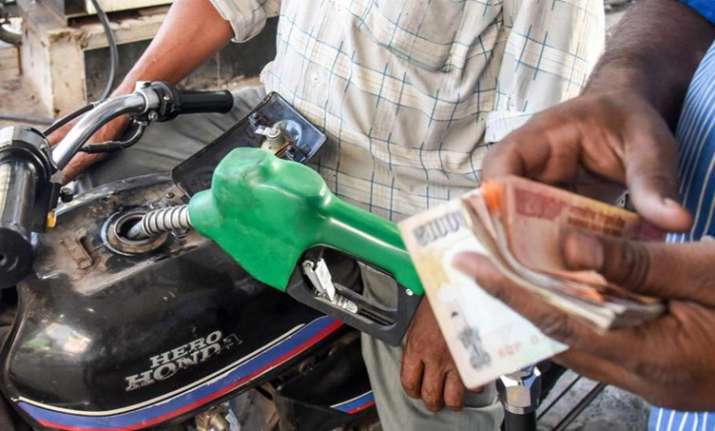 The petrol and diesel prices were hiked on Saturday for the third consecutive day by the oil marketing companies IOC, HPCL and BPCL. 
As of today, the petrol prices stand at Rs 75.98 per litre in Delhi, while in Mumbai, Kolkata and Chennai, it is currently priced at Rs 83.37, Rs 78.66, and Rs 78.85, respectively.
On the other hand, diesel is priced at Rs 67.76 per litre in Delhi, while it is more costly in other three metro cities. Diesel is sold at Rs 71.90 in Mumbai, Rs 70.31 in Kolkata and Rs 71.52 per litre in Chennai. 
On Thursday, the fuel prices were raised for the first time after a gap of 36 days, during which the rates were slashed. 
The rise in fuel prices was linked to hike in international crude oil prices following US sanctions on export of petroleum products by Iran.
While in Delhi and Mumbai petrol was at Rs 75.85 per litre and Rs 83.24 per litre respectively on July 6, in Kolkata and Chennai, petrol was at Rs 78.53 and Rs 78.72. 
On the other hand, diesel was at Rs 67.66 per litre in Delhi and Rs 71.79 in Mumbai. In Kolkata and Chennai, diesel was available at Rs 70.21 and Rs 71.42 per litre respectively.  
The three state-owned fuel retailers, IOC, Bharat Petroleum Corp Ltd (BPCL) and Hindustan Petroleum Corp Ltd (HPCL) had not revised petrol and diesel prices since June 26 till July 5.
While the OPEC last month decided to raise production, the US is piling pressure on India, China, and other buyers to end all imports of Iranian oil by a November 4 deadline in a bid to choke the Persian Gulf state's economic lifeline with sanctions over its nuclear programme.