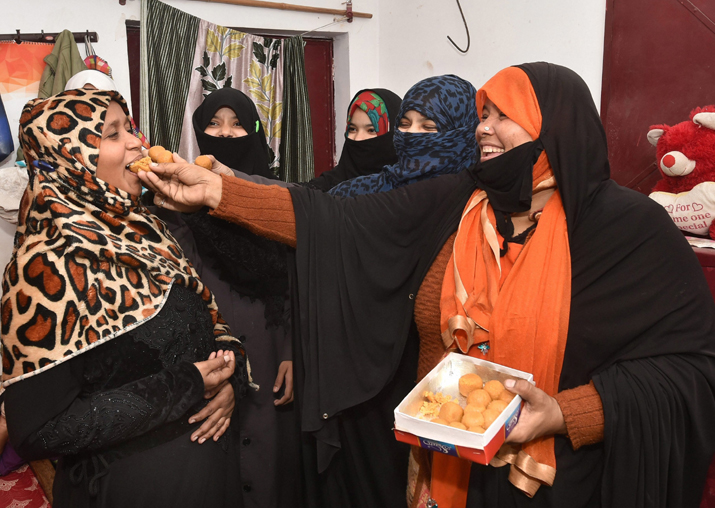 Scores of people on micro-blogging site Twitter today hailed the passage of the much-anticipated Triple Talaq Bill in the Lok Sabha.
The bill -- , introduced by Law Minister Ravi Shankar Prasad, seeks to criminalises instant triple talaq and makes it punishable by up to three years imprisonment for the husband.
The bill will now head to Rajya Sabha before being sent to the President for his assent. 
Muslim women and victims of Triple Talaq also welcomed the move saying "the passage of the bill is victory for the Muslim women and they now feel empowered".
Here's how people reacted on Twitter: 
Passing of #TripleTalaqbill is Revolutionary step truly ensure Gender Equality & Empower Women. Congratulations to My Muslim Sisters

— Dr.BharatibenShyal (@MPDrBDShyal) December 28, 2017
It's indeed a satisfying feeling to witness this significant, 'The Muslim Women (Protection of Rights on Marriage) bill during my time with exploring law. #TripleTalaqBill

— Krutika Mehta (@busy_observing) December 28, 2017
#TripleTalaqBill का लोक सभा से पारित होना मुस्लिम महिलाओं के समानता और मूलभूत संवैधानिक अधिकारों की विजय है l

— Shishpal Jangid (@shishpaljangid) December 28, 2017
Today is a great day to name and Shame those fake feminists who claim to stand for gender equality but are attacking the govt on #TripleTalaqBill. Everyone must know their chicanery

— Sunanda Vashisht (@sunandavashisht) December 28, 2017
@rsprasad congratulations on passing the #TripleTalaqBill ,
Just because of TripleTalak most of the words u ve used were Urdu y?
Khawateen
Mohtarma
Membran

— Pradeep Kumar (@Pradeep28bh) December 28, 2017
कांग्रेस राहुल गांधी को जेनाऊधारी हिन्दु बताने चक्कर में दोनों तरफ से फस गयी हैं। #TripleTalaqBill का समर्थन भी नही कर सकती और विरोध भी नहीं कर सकती है।
जय हो

— Manish Manilal Jaain (@manishjain2209) December 28, 2017