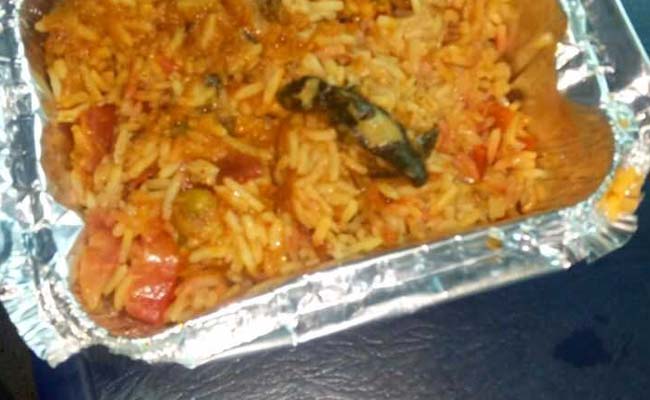 Just days after a Comptroller and Auditor General (CAG) of India report said that the food served by Indian Railways to its passengers is unfit for consumption, a passenger has complained that he found a lizard in the meal he ordered in the Poorva Express today morning. 
The passenger who ordered a vegetarian biryani found the lizard after consuming a few bites, much to his shock and disgust. He immediately complained to the ticket collector and tweeted to Railway Minister Suresh Prabhu. 
"Ordered food in Mokama and found this. I complained to the TTE, canteen manager, and tweeted it to the railway minister," he said.
The DRM and other officials took cognizance of the issue, inquired about the health of the passenger and provided him with medicines.
However, the passenger said that he was provided the medication very late. "The thing which I regret the most is that I was given medicines really late. I was not given any medication for about four hours," he said. 
Soon after the tweet, DRM Kanpur division assured to take action. "A check-up was done in Danapur Division and he was given medicine. Action will be taken after investigation,"said Kishor Kumar, DRM Danapur Division.
He condemned the incident and assured a detailed enquiry into the matter. "It is a very unfortunate incident. A detailed enquiry would be conducted in the case and necessary action would be taken," Kumar said. 
Acting on the complaint, the Indian Railways issued a 48-hour notice on the matter and terminated the catering contract of Poorva Express. 
The catering contract on Poorva Express was given to RK Associates on May 15, 2014 for five years. In a series of tweets, the Ministry of Railways announced its decision to terminate the contract.
In one of the tweets, the railways said that the caterer was fined Rs 10 lakh last year, while this year they were fined Rs 7.5 lakh.
The incident comes barely a week after the CAG, in its audit report, said the food served was unfit for human consumption and that fungal growth, rats and cockroaches were found in the pantry cars of even premier trains.
Meanwhile, sources said the developments have created restlessness within the Railways ministry, which has now ordered a third party audit of the catering and will submit its report to the ministry. The ministry is learnt to have cancelled the licenses of eight catering agencies in the aftermath of the CAG report.