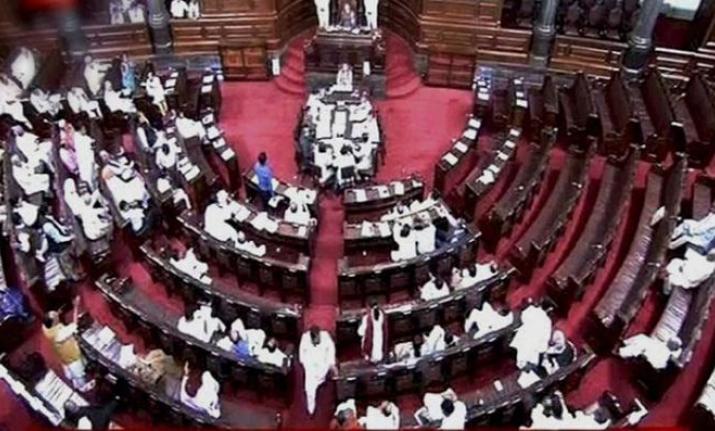 The Rajya Sabha was adjourned till 2 pm on Tuesday after Trinamool Congress (TMC) members created a ruckus over alleged interference of West Bengal Governor Keshari Nath Tripathi in the state's work. Meanwhile, vociferous protests by members of NDA ally Telugu Desam Party forced brief adjournment of Lok Sabha proceedings as they demanded special facilities for Andhra Pradesh. 
In Lower House of Parliament, the YSR Congress also joined the protests in the Well of the House and raised slogans despite repeated requests by Speaker Sumitra Mahajan urging them to go back to their seats. 
As it Happened: 
#Rajya Sabha reconvenes, Opposition leaders boycott session for the rest of the day
#Rajya Sabha adjourned till 3 pm following noisy Oppn protests over their voice being 'muzzled' in the House.
#TDP MPs protest in Lok Sabha over demand of special status to Andhra Pradesh and other issues. 
#Parliamentary Affairs Min Ananth Kumar says, "Want to tell my friends from TDP that their demands are very sensitive, PM and Government of India are very sensitive about development of Andhra Pradesh, matters raised will be looked into".
#With the agitated members continuing their protests during Question Hour, the proceedings in Lok Sabha were adjourned for ten minutes till 1120 hours. 
#Responding to an issue related to a notice by Derek O'Brien (TMC), Rajya Sabha Chairman M Venkaiah Naidu said he has received notices from Trinamool Congress, Akali Dal, TDP and those have not been accepted. 
#"Issue is Governor of the State is to...", Derek was heard saying. However, the chairman said, members are not supposed to take the name of governors. 
#TMC's Derek, who was seen holding a paper, said he was ready to table the letter in the House. 
#"You don't want to run the House, I am adjourning the House till 2 pm today," Naidu, said while adjourning the House. 
#Irked over slogan shouting by opposition MPs from the Well, Naidu had on Monday also adjourned the proceedings of the morning session till 1400 hours. 
#Earlier, Naidu urged members to address the Vice-President as 'Honourable Vice-President'. "I would request and suggest to all members that they should address the Chairman or even the Vice-President of India as Honourable Vice-President. There is no need to use 'His or Her Excellency'. 
"There is no need to use such phrases in future," said Naidu, who is also the Vice-President of the country.