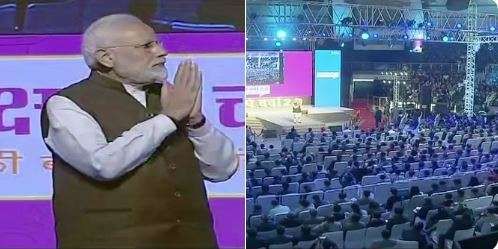 Along with their parents and teachers, Prime Minister Narendra Modi on Tuesday held his second "Pariksha Pe Charcha" with students. The prime minister interacted with 2,000 students from high school to college. The event was held at Talkatora Stadium and telecasted live. 
"It is a unique interaction where students, teachers, parents and the Prime Minister will come together to discuss issues related to exams and the stress connected to that," the Human Resource Development Ministry said in a statement. 
Last year, only students of Delhi-NCR participated in the event. However, this year, students from all over India as well as Indian students residing abroad, including in Russia, Nigeria, Iran, Nepal, Doha, Kuwait, Saudi Arabia and Singapore, participated in the event.
Here are HIGHLIGHTS: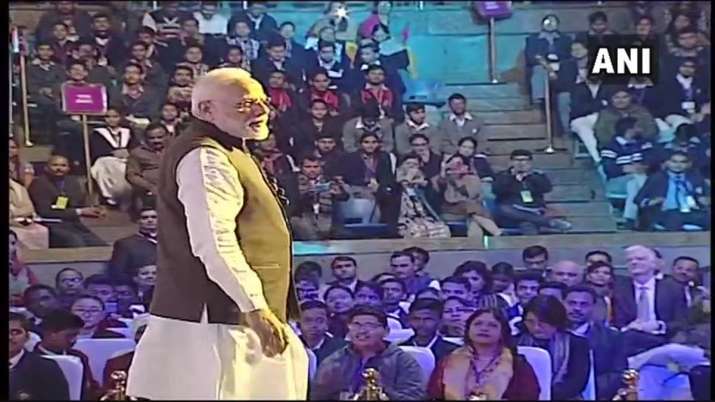 12:50 pm: Don't compare your children with other children: PM Modi
12:48 pm: If your child is depressed, talk to him: PM Modi
12:40 pm: No connect between the questions asked in exams and the objectives in lives, how to resolve that, asks a student from Kuwait
How to tackle problems like home sickness, asks a student
12:35 pm: Compare your present performance with your past performance: PM Modi
12:33 pm: Teachers and students must be interconnected: PM Modi 
12:23 pm: Positive attitude of parents is very helpful in the development of their children: PM Modi 
12:21 pm: Another student asks how to convince parents for not forcing them to opt for Maths/Science streams and allow them to take a decision based on their aptitude.
How to take a call on career opportunities after finishing studies, asks a BHU student.
How to select stream after 10th exam, how to select career after 12th exam, asks AMU student Md Salim.
12:17 pm: Children must get proper guidance: PM Modi
12:13 pm: Technology can be instrumental in connecting parents&children, parents should slowly teach children to use technology in right manner, then children will leave PlayStation for a play ground. Tech must be used to increase our capabilities: PM Modi
12:08 pm: Time management is a must. Everyone has 24 hours. We must use it wisely: PM Modi
12:00 am: Aims should be crystal clear. We should work towards achieving our aims: PM Modi 
11:59 am: How should we fix our targets? Asks a student
11:55 am: Technology has both- beneficial​ and harmful - aspects. We must teach our children how to use technology in a positive way: PM Modi
11:52 am: Parents who try to impose their unfulfilled wishes on their kids are a failure, they must try to recognise the potential in their children. As far as expectations are concerned, we also feel like working hard when there are expectations: PM Modi
11:44 am: Parents should not force their children to become something which they don't want to become: PM Modi  
11:41 am: Expectation is a good thing. Society should have expectation: PM Modi
11:38 am: In life we should not stop dreaming: PM Modi 
11:35 am: PM Narendra Modi during Pariksha Pe Charcha 2.0 in Delhi: George Fernandes passed away today. He was a dynamic leader. He fought the Emergency tooth and nail. I pay tribute to him.
11:32 am: Life is more than exams. Life is more important than exams: PM Modi
11:25 am: Don't consider as if you are sitting in an event. Consider as if you are sitting with your family: PM Modi
11:00 am: PM Modi arrives at Talkatora Stadium
For the event, around 675 students from many states and union territories had arrived in Delhi. On study-related matters, selected students were allowed to ask questions to the Prime Minister.
To reduce exam-related stress, this year's event also witnessed a cultural programme of 10 minutes. Screening of a short film took place. It showcased initiatives taken by the HRD Ministry since last year's "Pariksha Pe Charcha".
Last year in February, Modi had held his first such interaction with the students. Earlier that month, he had released his book "Exam Warriors". The book is a guide to help students handle the exam anxiety.
WATCH VIDEO: