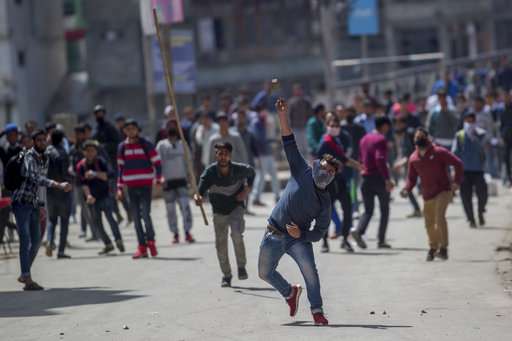 A day after the National Investigation Agency (NIA) found electronic evidence of connection of seven arrested Hurriyat leaders with some 48 'habitual' stone pelters in Jammu and Kashmir, it has now found how terrorists in Pakistan are using WhatsApp incite youth in the Valley to spread unrest. 
According to a Times of India report, the NIA, while analysing the social media activity of these 'habitual' stone-pelters, found at 28 WhatsApp groups whose creators, administrators and some members are based in Pakistan and include identified cadres of terror outfit Jamaat-ud-Dawah. 
The report cited NIA sources saying that the identified WhatsApp groups together have 5,000 members, of which majority are local Kashmiris but a significant number are linked to Pakistani mobile numbers. Also, some of these groups have either been created by a Pakistani or have Pakistanis as their administrators. 
"We have identified Pakistani numbers in the WhatsApp groups. Some of these numbers also show up in JuD posters and publicity material, confirming JuD link to the J&K youth who regularly pelt stones to disrupt ongoing anti-terror operations, allegedly on payment arranged by Hurriyat separatists," an investigator was quoted by Times of India as saying. 
While it is believed that these terror funds to separatists come from Pakistan, the NIA says it can establish more specific details after questioning the seven arrested Hurriyat leaders. 
The messages on these 28 WhatsApp groups tracked by NIA range from religious posts, terror-inciting material to updates on ongoing anti-terror operations in Jammu and Kashmir. There are messages posted during encounters between the terrorists and security forces in J&K.
"The idea is to mobilise the local youth for stone-pelting at the encounter site so that the terrorists can escape," said an NIA officer. 
It was on the basis of these WhatsApp groups that the NIA could zero in on phone numbers of 48 Kashmiri youth present at three or more stone-pelting locations in the past one year. 
The telephonic conversations revealed that these 'habitual' were in constant touch with local and mid-level Hurriyat leaders, who are believed to be connected to top separatists. It was also found that there was a terror-funding pattern with the top leaders passing funds to local leaders who would pay the youth to pelt stones and unleash mob violence.
Many on the list were found to be in frequent touch with local and mid-level Hurriyat leaders. The telephonic connections of the latter extended to top leaders of Hurriyat, particularly from the hadline faction led by Syed Ali Shah Geelani.
For the the first time since the rise of militancy in Kashmir in the early 1990s, a central probe agency had carried out raids in connection with the funding of separatists. 
In 2002, the Income Tax department had raided the establishments of some separatist leaders, including Geelani, and seized cash and documents.