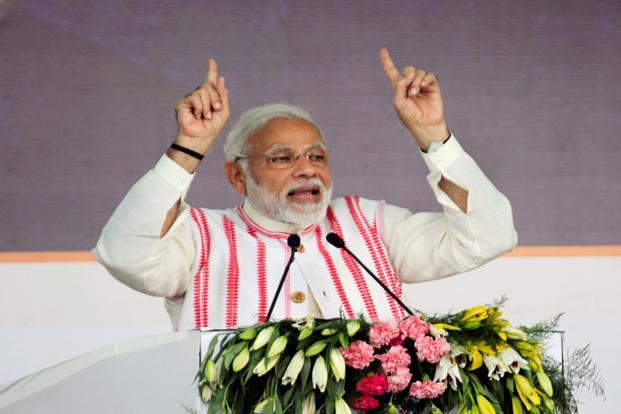 The Rashtriya Janata Dal (RJD) on Monday took on Prime Minister Narendra Modi over his continual references to Pakistan in election rallies.
The party's official Twitter handle, in Hindi, tweeted to call out PM Modi for his "dependence" on Pakistan and using it as a tool to woo voters ahead of the Lok Sabha polls.
On February 26, India launched a pre-emptive airstrike in Pakistan's Balakot in retaliation to Pulwama terror attack. Pakistan-based Jaish-e-Mohammed had claimed responsibility for the Pulwama attack -- that took lives of over 40 CRPF personnel on February 14. Pakistan claims there was no airstrike and no damage was caused to either life or property.
PM Modi and his ministers have since been raving about the bravery of the forces -- while also accrediting the feat to the clarity of thought of the ruling Bharatiya Janata Party (BJP).
To this end, the RJD posted: "Pakistan se itna pyaar? Pakistan ke bharosey hi chunaav ladogey? Piddi se padosi par hi desh saari taaqat barbaad karey? Apni, apne kaam ki, desh ki baat karo! [Will you use Pakistan as the only tool to win the polls? Will we use all our military power to defeat this small nation? Rather than the enemy, please talk about your work, your nation.]"
मोदीजी दिन में 200 बार पाकिस्तान का नाम लेते हैं!

अरे मोदी जी, पाकिस्तान से इतना प्यार?
भारत का नाम लीजिए!
आप भारत के प्रधानमंत्री हैं!
यह भारत का आम चुनाव है!
पाकिस्तान के भरोसे ही चुनाव लड़ोगे?
पिद्दी से पड़ोसी पर ही देश सारी ताकत बर्बाद करे?
अपनी, अपने काम की, देश की बात करो!

— Rashtriya Janata Dal (@RJDforIndia) April 1, 2019
The tweet comes hours after PM Modi, at a 'Main Bhi Chowkidar' event, spoke about the Balakot airstrike and said Pakistan was in a fix because if it acknowledged the airstrike, it would have to accept that there was terror camp there.
In one of the many Balakot references, PM Modi, on Sunday, added he took the decision for the Indian Air Force to conduct the Balakot airstrike as he thought that the game should be played from where terrorism was being remote-controlled