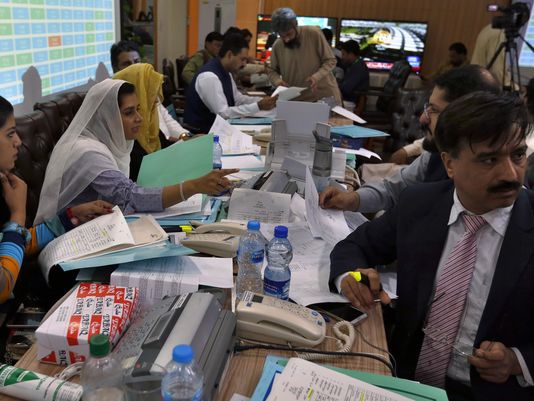 Though Imran Khan looks set to take over as the next Prime Minister of Pakistan, the opposition parties are getting restless over the delay in the official declaration of poll results.
Nawaz Sharif's PML-N on Friday called a meeting of the opposition parties after which they decided to continue their fight democratically against the "rigging of votes".
The meeting, however, was not attended by leaders of Asif Ali Zardari's PPP.
Meanwhile, a European Union team of election observers on Friday said that Pakistan's general elections this week were eclipsed by "restrictions" on freedom of expression and an "unequal" opportunity for candidates to campaign.
In its preliminary assessment of the 25 July elections, the EU Election Observation Mission (EU EOM) said the media outlets and journalists suffered from restrictions which resulted in self-censorship.
"The European Union Election Observation Mission to Pakistan has concluded that positive changes to the legal framework were overshadowed by restrictions on freedom of expression and an unequal opportunity to campaign," it said while delivering its preliminary assessment at a press conference in Islamabad.
Watch: No alliance with PPP, says Imran Khan
The team, headed by EU Chief Observer Michael Gahler MEP (Germany), said that despite positive changes to the legal framework with the new Elections Act, and a stronger and more transparent Election Commission, the electoral process was negatively affected by the political environment.
Meanwhile, Imran Khan's party PTI has made it clear that it'll not join hands with Bilwal Bhutto's PPP for government formation.
The party asserted that it will form the government with the support of the smaller parties and the independents. 
The party is ahead in 116 seats but it is far away from the magic figure of 137 in a House of 272 members, according to Pak media reports.
The Pakistan Election Commission has rejected allegations of rigging and said that the polls were held freely and fairly.
Dismissing allegations of deliberate delay in declaration of results, the Pak EC said that the process takes time, adding the results are being declared sooner this time compared to the past.