Follow us on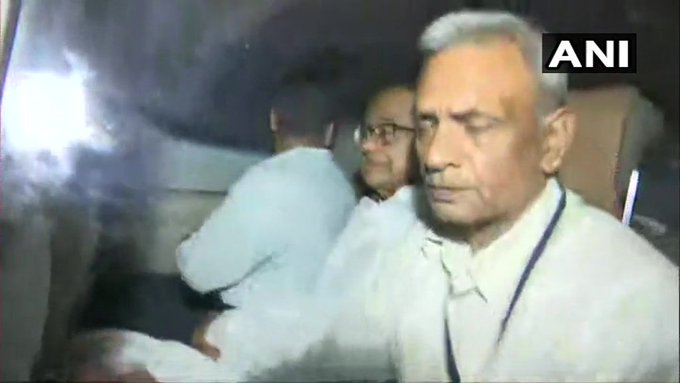 The CBI arrested former union minister P Chidambaram from his Jor bagh residence late on Wednesday. The arrest was preceded by high drama in which CBI officials scaled the compound wall and police had to deal with Congress workers who tried to stall CBI officials. Chidambaram was then taken to CBI headquarters. 
CBI officials took Chidambaram to CBI headquarters in New Delhi. He was taken in through the exit gate to avoid media persons gathered at the entry gate. After a medical check-up he was subjected to questioning.
Prior to his arrest, P Chidambaram was at Congress party headquarters where he addressed a press conference. Addressing a packed room filled with journalists, Chidambaram said, "I was aghast that I was accused of hiding from the law, on the contrary, I was seeking the protection of the law. My lawyers tell that cases will be listed on Friday. I bow down to orders of SC. I respect law even if it is applied with an unequal hand by probe agencies."
"In INX Media case, I've not been accused of any offence nor anyone else incl any member of my family. There is no charge sheet filed by either ED or CBI before a competent court," Chidambaram said in a presser that lasted barely for six minutes. 
Soon after the press conference ended, Chidambaram left the dais. A CBI team also have reached the Congress Headquarters, media reports said. 
Chidambaram faces arrest: Highlights
12:24 AM: CBI concludes first round of interrogation with Chidambaram
12:07 AM: Congress Spokesperson Randeep Surjewala to hold a press conference at 10 am on Thursday
11:45 PM: CBI has begun questioning Chidambaram
11:40 PM: Team of doctors leaves CBI headquarters after conducting health check-up of Chidambaram
10:20 PM: P Chidambaram to undergo medical check-up 
10:18 PM: CBI begins questioning P Chidambaram at its headquarters
10:16 PM: Read the full story about how events unfolded prior to Chidambaram's arrest
9:59 PM: CBI team reaches CBI headquarters along with P Chidambaram. He was taken inside the headquarters from the exit gate to avoid media gathered at the entry gate. 
9:45 PM: CBI arrests P Chidambaram from his Jor Bagh residence after high drama
9:26 PM: Karti Chidambaram has posted a tweet about the drama unfolding outside Chidambaram's residence.
"The drama and spectacle being enacted by the agencies is to simply sensationalise and satisfy the voyeuristic pleasure of some," he tweeted.
8.59 PM: ED team also accompanies CBI officers, as television channels beamed the images live from P Chidambaram's home in Jor Bagh. 
8.55 PM: In a dramatic move, CBI team scales a wall to enter P Chidambaram's residence in Jor Bagh.
8.43 PM: CBI team follows him at his residence.
8.40 PM: Chidambaram has reached his residence at Jor Bagh, New Delhi.
8.30 PM: P Chidambaram shows up at Congress Headquarters. Addresses media. P Chidambaram tells he has full faith in Supreme Court and he relies on the wisdom of judges. 
Watch P Chidambaram Press Conference at Congress HQs
The sequence of events prior to Chidambaram's press conference
8 PM: RECAP: Wednesday ended on a disappointing note for P Chidambaram and his battery of top lawyers as Supreme Court did not entertain their urgent hearing plea. Kapil Sibal-led Chidambaram's lawyers failed to convince Justice Ramana-led bench and later CJI Ranjan Gogoi on a day that began on a hectic note. Supreme Court will now hear Chidambaram's plea on Friday.
Senior Congress leaders, some of who also happen to be top Supreme Court lawyers, were in court to defend Chidambaram. These included Kapil Sibal, Vivek Tankha, Salman Khurshid, AM Singhvi and Ashwani Kumar. CBI was represented by senior counsel Tushar Mehta. 
5:05 PM: Supreme Court to hear Chidambaram's plea on Friday (August 23)
4.33 PM: Chidambaram's team of lawyers having deliberations in the consultation room in SC. Supreme Court Registrar has now gone to meet CJI Ranjan Gogoi. 
4.08 PM: Kapil Sibal and his team were present before CJI-led Constitution Bench at 4 pm. Team Chidambaram hoped that CJI Ranjan Gogoi, who was rising for the day post-Ayodhya hearing, would enquire why they were there. But CJI Ranjan Gogoi left the courtroom without having a word with Chidambaram's counsel present there. 
3.45 PM: Kapil Sibal, Vivek Tankha and other lawyers of P Chidambaram are in CJI Ranjan Gogoi's court. They have no choice but to wait for CJI to complete today's hearing on Ayodhya case. 
3:30 pm: Sibal, along with his team reaches the courtroom for hearing in Chidambaram case 
2.31 pm: Sibal reminds Justice Ramana that CJI Ranjan Gogoi will only rise at 4 PM which eventually means that the matter won't be heard today. 
2.28 PM: Justice Ramana refuses to hear P Chidambaram's plea until it is listed. Kapil Sibal, Chidambaram's counsel insists that the matter be heard as his client is not 'running away'. Sibal cites a case which was heard by SC without listing it. Justice Ramana dismisses that argument saying that person was 'going away.'
2.20 PM: Supreme Court Registrar confirms that defects in Kapil Sibal's plea have now been cleared. 
2.19 PM: My client is not running away, Kapil Sibal says pleading relief for P Chidambaram. 
2.09 PM: Legal correspondent of The Hindu, Krishnadas Rajagopal writes on twitter: "In Chidambaram case, clout wrestles with court procedure in SC as his lawyers continue a dogged pursuit for a hearing."
2.06 PM: RECAP: What P Chidambaram's counsel has argued so far
"The trigger for the investigation is claimed to be a payment of Rs 10 lakhs (by cheque on which income-tax was paid) by INX Media to another company namely M/s Advantage Strategic Consulting Pvt. Ltd. for consultancy rendered by the latter. It is on record that INX Media has denied any other payment; nor has any evidence been brought on record of any other payment. The Petitioner [CHIDAMBARAM] has no connection whatsoever with either INX Media or M/s Advantage Strategic Consulting Pvt. Ltd."
2.04 PM: Kapil Sibal, Vivek Tankha and the team back in Justice Ramana's court for P. Chidambaram.
1:58 PM: The Supreme Court will hear P Chidambaram's plea at 2 pm today. Plea will be made before Justice Ramanna.
12.40: The Supreme Court bench led by Chief Justice of India Ranjan Gogoi is hearing the Ayodhya case. The counsel for Chidambaram has no choice but to wait for the Bench to rise to list their matter. 
12. 17 PM: The Central Bureau of Investigation has filed a caveat in the Supreme Court. CBI in its caveat said, "Let nothing be done without notice to us." CBI's counsel Tushar Mehta is also in the Supreme Court at the moment, reports said. 
11:40 AM: Enforcement Directorate (ED) issues fresh lookout circular against P Chidambaram to restrict his movement across land, air and seaports
11:29 AM: Senior lawyer Kapil Sibal couldn't mention his urgent listing of P Chidambaram's plea before CJI, as 5-judge Constitution bench of the Supreme Court, headed by Chief Justice of India (CJI) Ranjan Gogoi, commences day-to-day hearing on Ayodhya case. 
11:20 AM: Hearing in CJI court will take place post-lunch. Senior lawyers in Supreme Court, Kapil Sibal, Vivek Tankha and Salman Khurshid stand in front of the CJI Constitution Bench, which is hearing  Ramjanmbhoomi case but fails to mention Chidambaram case. PC's counsels feel CJI will pass an order and assign a Bench to hear the case today itself, reports said. 
11:03 AM: Chidambaram's lawyer Salman Khurshid says, No one is running away, law will take its own course
11:02 AM: Chidambaram says Delhi HC's observation that he is "kingpin" in INX media case is completely baseless and supported by no material whatsoever. 
11:00 AM: Bench headed by J N V Ramana says Chidambaram's plea will be put before CJI to consider for urgent listing. Justice Ramana has asked Chidambaram's counsel senior lawyer Kapil Sibal to complete formalities in order to put the matter before CJI Ranjan Gogoi's court.
10:57 AM: An extremely qualified and respected member of the Rajya Sabha, P Chidambaram ji has served our nation with loyalty for decades including as Finance Minister & Home Minister. He unhesitatingly speaks truth to power and exposes the failures of this government but the truth is inconvenient to cowards so he is being shamefully hunted down. We stand by him and will continue to fight for the truth no matter what the consequences are: Priyanka Gandhi
10:55 AM: This case is of monumental magnitude, says Centre in SC on Chidambaram's plea.
10:50 AM: No immediate relief for P Chidambaram, ball now in CJI court
10:45 AM: Supreme Court Judge, Justice NV Ramana, sent the file of P Chidambaram's plea seeking interim bail before Chief Justice of India Ranjan Gogoi to pass the order
10:40 AM: Senior lawyers Kapil Sibal, Salman Khurshid and Vivek Tankha are inside the courtroom. #PChidambaram
10:35 AM: Special Leave Petition (SLP) filed in Supreme Court by lawyers of P Chidambaram seeking interim relief against yesterday's order of the Delhi High Court canceling Chidambaram's anticipatory bail plea
10:30 AM: Hearing begins in Supreme Court.
Chidambaram is key conspirator: Here's what the Delhi High Court said
As the Delhi High Court rejected the anticipatory bail plea of Chidambaram on Tuesday, it said facts prima facie reveal that he is the kingpin, the key conspirator, in the case. The High Court observed that the magnitude and enormity of material brought forth by investigating agencies clearly does not entitle him any pre-arrest bail. 
Why is Supreme Court last resort for P Chidambaram
The Supreme Court is Chidambaram's last resort from the imminent threat of arrest. After the order from the Delhi High Court, the legal team of Congress led by senior party leader Kapil Sibal rushed to the apex court to the Registrar (judicial) seeking to mention the petition urgently. Both, Chidambaram and Sibal, were seen shuttling between offices of various senior court officers -- from the Secretary General to the court staff of Chief Justice. Though Chidambaram failed to get an audience with the Chief Justice Ranjan Gogoi for an urgent hearing in the matter, after hectic discussion with various authorities concerned, he was told his plea would be taken up before an appropriate bench at 10:30 a.m. on Wednesday.
Congress alleges political vendetta
Several Congress jumped in to shield Chidambaram and accused the government of "political vendetta". Senior Congress leader Anand Sharms said the manner in which CBI and ED teams descended at Chidambaram's residence raised fundamental questions. Digvijaya Singh too echoed the same.
No coercive action till SC hearing, Chidambaram's legal team says
The legal team of P Chidambaram has asked the CBI not to take any coercive action against him as his petition is to be heard in the apex court today. The team said CBI notice did not mention the specfic provision of law under which he was summoned.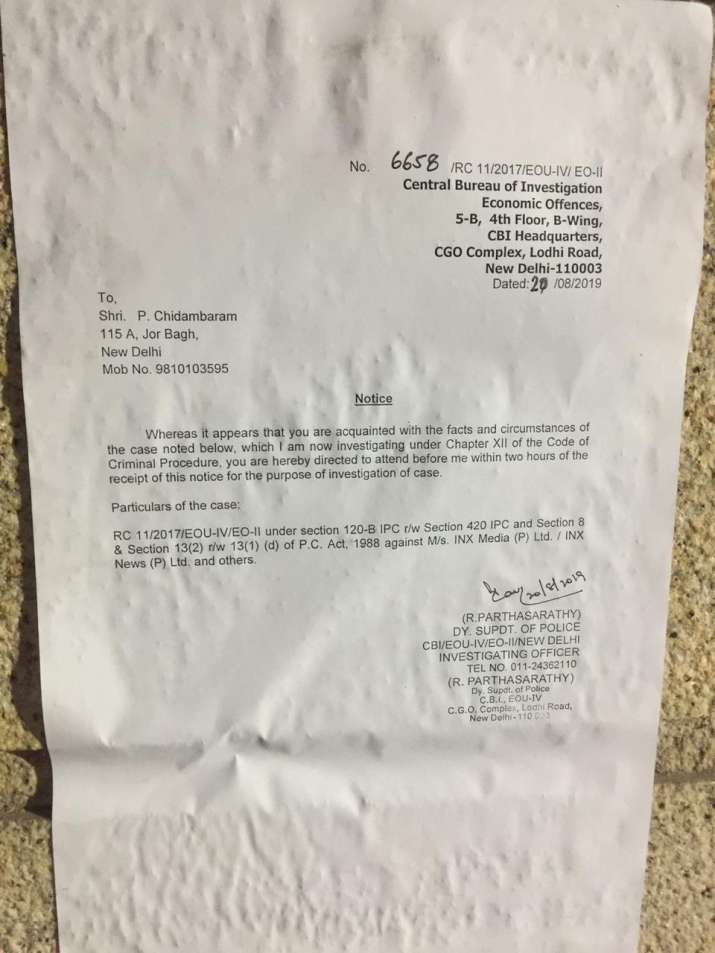 Chidambaram seeks documents of suit filed by 63 moons
Former Union finance minister P Chidambaram, who is facing a summons notice from the Bombay High Court in a suit filed by 63 moons technology company seeking Rs 10,000 crore in damages, has sought a copy of the plaint and other relevant documents from the firm.
The high court on July 24 directed Chidambaram and two bureaucrats to remain present in person or through their lawyers on October 15 to respond to the claims made by the company, formerly known as Financial Technologies Ltd.
On August 14, Chidambaram's lawyer Nitesh Jain sought a copy of the plaint and all documents that the company has relied upon.
ALSO READ | How Chidambaram evaded arrest even after court dismissed his anticipatory bail petitions | 10 points
ALSO READ | Chidambaram evades arrest by CBI, ED after court rejects bail petitions