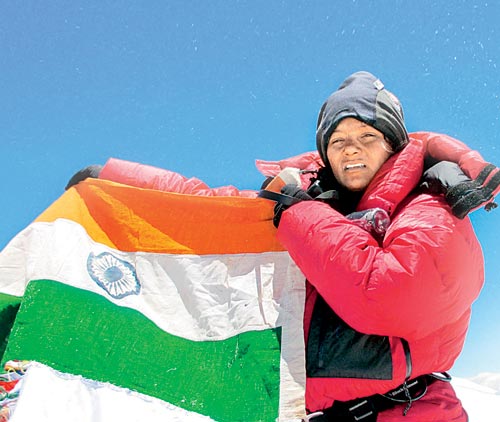 New Delhi: The story of Arunima Sinha is not ordinary by any means. In 2011, the 26-year-old national level volleyball player from Lucknow lost one of her legs in a horrific accident when she was thrown off a moving train for resisting a chain-snatching attempt by hoodlums. 
However, instead of being bogged down, she decided to fight back. 
Not only did she come out of the frightening memories of that incidence, also became the first woman amputee to climb the Mt. Everest in May 2013. 
"It was when I was on the hospital bed with everyone feeling sorry for me that I decided to prove to everyone that I did not need their pity And mountaineering was the only option. It was the only option where there were no chances of saying sorry. If you committed a mistake, life would be the one saying sorry to you," Arunima told India Today standing on top of the world. 
"I turned my artificial leg into my strength and stubbornly chose the most difficult sport for myself," she further added. 
Sinha, who climbed the world's highest peak at 10:55 am on May 21, 2013, was a member of the Eco Everest Expedition from the Tata Group. 
Sinha said her elder brother, Omprakash Sinha, a former CRPF jawan, encouraged her when she disclosed her willingness to climb the world's highest peak, after getting an artificial limb.
"Following the discussion, I had a talk with Bachendri Madam [Bachendri Pal, the chief of Tata Steel Adventure Foundation (TSAF), the first woman to conquer the Mt Everest] over phone, who promised to train me," Sinha, who did her basic mountaineering course with A grade from Nehru Institute of Mountaineering, Uttarkashi, said.
Sinha said she had decided to get her life back right in the hospital when she was recovering.
"At that time everyone was worried for me. I then realised I had to do something in my life so that people stop looking at me with pity," she said.
For Sinha, cricketer Yuvraj Singh has been an inspiration. "He sent me a cheque of Rs.1 lakh and also spoke to me when I was recovering. I then got to know later he was diagnosed with cancer. When I saw him back in the Indian team I was inspired and said to myself that if he can get back to the team, I could do something with my life."
In September 2012, Sinha had climbed 21,110 ft of Mt Chhamser Kangri's (21,798 ft). She had to abandon the expedition 690 ft short of the summit due to bad weather condition.
Arunima successfully scaled the 6,622-metre-high Mount Chhamser Kangri of Ladakh in 2012, but her ultimate goal was to climb Mount Everest.
Talking about the incident when she was pushed out of Padmavati Express for resisting a chain-snatching attempt, she said that her life changed after she refused to hand over her golf chain to robbers.
However, police disputed her version. They claimed she was either attempting suicide or had jumped out of the train in order to evade herself for travelling without a valid ticket. 
It took her 52 days of rigorous climbing to conquer the world's highest peak – the 8,850 m (29,000 sq ft) summit. 
At one point when Arunima's energy and oxygen levels were depleting fast, her leader suggested to back off, but she refused. 
She is now planning to open a sports academy for the poor and physically disabled children, for which she has already bought a piece of land in Unnao district in Uttar Pradesh.