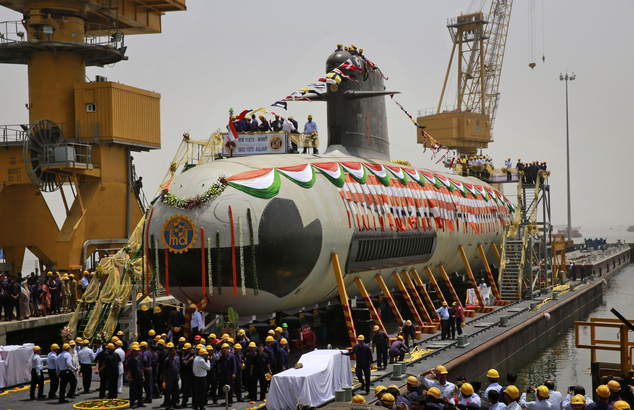 Defense minister Manohar Parrikar today sought a report from Indian Navy on the leak of classified data on India's Scorpene submarines.
Talking to reporters, Parrikar said that issue came to his knowledge at midnight and he believes it's a case of hacking.
This came to my knowledge at 12 midnight, it is a case of hacking: Defense Minister Manohar Parrikar on Scorpene submarine leak

— ANI (@ANI) August 24, 2016
"First step is to identify if its related to us, and anyway its not all 100% leak," Parrikar said on the submarine leak reports.
First step is to identify if its related to us, and anyway its not all 100% leak: Manohar Parrikar on submarine leak pic.twitter.com/6FG8M09HZv

— ANI (@ANI) August 24, 2016
Parrikar has also asked the Navy chief to analyze what exactly has been leaked.
What seems to be a major strategic setback for Indian Navy, sensitive data related to India's Scorpene submarines has been leaked, a report in Australian media revealed on Tuesday.
The stunning leak that runs to 22,400 pages details the ­entire secret combat capability of the six Scorpene-class submarines that French shipbuilder DCNS has designed for the Indian Navy, according to a report in The Australian.
The leaked DCNS data details the secret stealth capabilities of the six new Indian submarines, including what frequencies they gather intelligence at, what levels of noise they make at various speeds and their diving depths, range and endurance — all sensitive information that is highly classified. 
The data tells the submarine crew where on the boat they can speak safely to avoid ­detection by the enemy. It also discloses magnetic, electromagnetic and infra-red data as well as the specifications of the submarine's torpedo launch system and the combat system.
Variants of Scorpene submarines are also used by Malaysia and Chile with Brazil to join the club soon.
First of the Scorpene class submarines being built in India Kalvari went for sea trials in May, 2016 and is expected to be inducted in the Indian Navy soon.
Indian Navy officials have said the six submarines, once inducted, would form the core of the Navy's submarine arm for the next two decades.
According to the report, DCNS has said that such a leak of technical data could not happen with its proposed submarine for Australia.
The DCNS also implied that the leak might have occurred at India's end, rather than from France.
"Uncontrolled technical data is not possible in the Australian Aarrangements," the company said, as per the report in The Australian.
"Multiple and independent controls exist within DCNS to prevent unauthorised access to data and all data movements are encrypted and recorded. In the case of India, where a DCNS design is built by a local company, DCNS is the provider and not the controller of technical data," it said.
(IANS inputs)