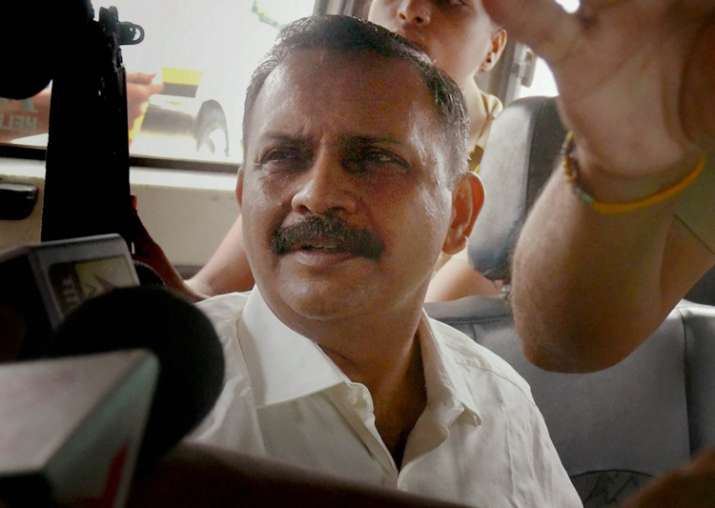 Lt Col Shrikant Prasad Purohit, one of the prime accused in Malegaon blast, today walked out of the Taloja prison here after spending nine years in jail.
Purohit is accused of being a part of the conspiracy hatched for carrying out the September 29, 2008 blast in Malegaon, a Muslim-dominated town in Nashik district of Maharashtra. 
He was granted bail by the Supreme Court on Monday. 
Besides Purohit, Sadhvi Pragya Singh Thakur was also an accused in the case in which seven people were killed. Pragya was granted bail earlier this year.
Who is Lt Col Purohit? 
Purohit was arrested in late 2008, thus becoming the first Army officer to be arrested on charges of terrorism. The blast, that had left seven people dead, was initially probed by the Maharashtra Police's Anti-Terrorism Squad (ATS). 
However, in 2011, the investigation was taken over by the National Investigation Agency (NIA).
The 45-year-old Army officer was reported to be a member of right-wing group 'Abhinav Bharat', which allegedly carried out the attack targeting Muslims. 
The NIA chargesheet said Purohit was funded to buy arms and explosives for 'Abhinav Bharat' and also accused him of organising several meetings where the Malegaon attack was planned.
The chargesheet also said Purohit was the man behind 'Abhinav Bharat', floated in 2007 with an ideology of leading a campaign for a 'Hindu Rashtra'. 
The investigative agency said that Purohit had on January 25 and 26, 2008 held meetings in Faridabad in Haryana, where the formation of a 'Hindu Rashtra' was discussed. 
He had allegedly read the 'Constitution of Abhinav Bharat' and discussed the formation of a 'Central Hindu government in exile in Israel and Thailand'.
In March 2011, Purohit was commissioned into the Maratha Light Infantry after passing out of the Officers' Training Academy, Chennai. 
He was serving in Jammu and Kashmir when he fell ill and was medically downgraded. He was then shifted to Military Intelligence.
Purohit was posted at Deolali, a small hill station in Nashik district of Maharashtra, when he came in touch with Ramesh Upadhyay, a retired Major, and floated 'Abhinav Bharat'. Ramesh Upadhyay is also an accused in the case.
On Monday, the SC had granted bail to Purohit observing that there were contradictions in the chargesheets filed by the ATS and the NIA. The court had also relied on the Court of Inquiry documents accessed by Purohit through the Army. Purohit will join an Army unit but will not be given any active duty.