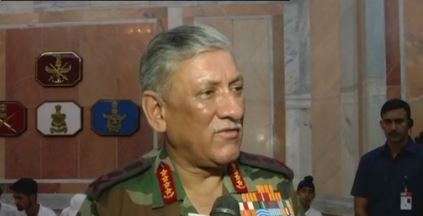 Army Chief General Bipin Rawat on Friday strongly refuted accusations that armed forces adopt brutal means during their anti-terror operations creating trouble of civilians. General Rawat stressed that the Army operates under strict guidelines that clearly point out that civilians should not be inconvenienced in any military action.
The army chief described reports about 'brutality' by armed forces as 'motivated'.
"Army continues to operate under strict rules of engagement that have been formulated. We conduct operations in a very people friendly manner. Motivated reports that keep coming out that Army and security forces are brutally carrying out operations aren't true," news agency ANI quoted Army Chief General Rawat, as saying.
He said that the Army's primary objective was to act against those creating disturbance in the Kashmir Valley.
"Our basic purpose is to get after terrorists who are creating violence and disturbance in the Kashmir valley. Our aim is not to inconvenience the civilian population which is not indulging in arsenal violence," General Rawat said. 
General Rawat's remarks comes days after senior Congress leader and former Jammu and Kashmir CM Ghulam Nabi Azad had raised questions over Army action in the Valley.  Azad had triggered a row by saying that the Army was killing more civilians than terrorists.
Also Read: BJP blasts Ghulam Nabi Azad for Kashmir remark, says Congress demeaning Army, security forces
Lashing out at the Congress, the BJP had said that Azad's comments were being welcomed terror groups like Lashkar-e-Taiba (LeT). Law Minister Ravi Shankar Prasad said Azad's comments  will make Pakistan happy.
He claimed a new Congress has emerged and under its president Rahul Gandhi and with the blessings of Sonia Gandhi, it wants to strengthen the forces working to break India.
Prasad described Azad's comments as "shameful and irresponsible" and the Congress' pathological hatred of Prime Minister Narendra Modi and the BJP has become a "corner stone" of its politics in which national interest at times takes a back seat.
Security forces had killed 72 and 67 terrorists in 2012 and 2013 and the figure rose to 110 in 2014, when the BJP-led NDA came to power at the Centre, 108 in 2015, 150 in 2016 and 217 in 2017. Seventy-five of them were killed till May this year, the minister said. 
(With inputs from agencies)