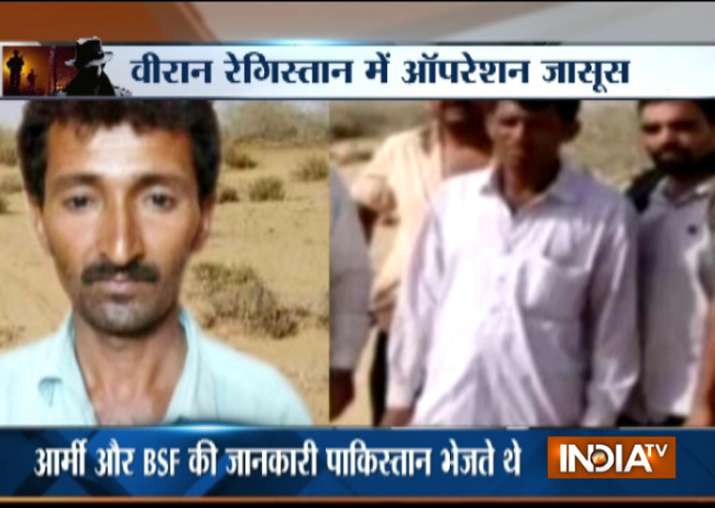 In yet another revelation that Pakistan's notorious spy agency Inter-Services Intelligence (ISI) has been making several efforts to extract confidential information related to India's military movement and other security establishments along border areas, it has now emerged that the Pakistan-based agency was making efforts to position their spies in villages along the Indo-Pak border in Rajasthan. Earlier this month, Indian security forces had arrested two suspected ISI agents from Jaisalmer. They were identified as Ramjan Khan and Nabiya Khan.
Ramjan and Nabiya, who hail from Kunjari village of the district, are accused of passing on confidential information related to country's security forces to ISI. For contacting ISI officials across the border, security agencies said, the duo were using Pakistani SIM cards in order to avoid tapping by Indian establishments. Besides, they were allegedly getting a hefty amount of money from the ISI in exchange for the information. Today, the village, with a population of 500, has earned quite a name for itself – being a hub of Pakistani spies.
The village, located few kms from the border and lies in close vicinity to the Kishangarh field firing range where BSF and Army conduct training exercises. India TV reached the village notorious for such subversive activities to get a first-hand experience of the people there and how they were influenced. Our team found that houses here are mostly non-pucca and villagers use code words and even develop secret plans to pass on information to Pakistani officials. Several hideouts were also busted from where locals cleverly sent confidential information to the ISI. Since the village is located close to the border, it is very easy for locals to track the movement of security forces. Most of the villagers here are dependent on livestock for earning their livelihood.
During investigation, our team found that residents here use Pakistani SIM cards to contact officials sitting across the border. Gaurav Yadav, SP, Jaisalmer informed that Pakistan has installed mobile towers close to the border, enabling Kunjari residents to get signals on their mobile phones very easily. During the interrogation of arrested spies, it was found that villagers hide their mobile phone under the desert in order to evade scrutiny from security forces. 
"Because of the mobile towers, they (villagers) are able to contact Pakistani officials.  This is a clear misuse of towers… we are making efforts to block the signals," Yadav said.
A slip carrying number of a Pakistani major was also found during the operation. The arrested spies were in direct touch of the major. It was also revealed that ISI deposited money in bank accounts of arrested persons and even provided money through other means. It is said that confidential army documents were confiscated from them. 
Numbers of resident ISI agents have been arrested form Jaisalmer in recent past. Agencies believe that these resident spies share vital information related to security establishments with ISI for money. The agencies have now stepped up vigil in the region and are regularly on their toes to identify agents who are threat to the country.