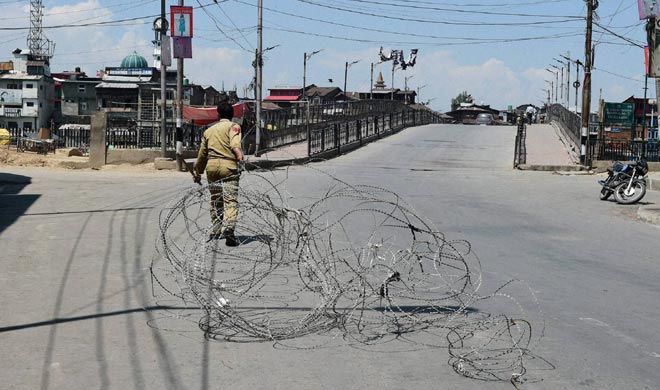 The death toll in the unrest in Kashmir rose to 44 with a youth, injured in clashes a few days ago, succumbing today.
Ishtiyaq Ahmad, injured in clashes at Kokernag area of Anantnag district, died at SKIMS hospital, Soura this morning.
The death toll in the clashes between protesters and security, which erupted following the killing of Hizbul Mujahideen commander Burhan Wani in an encounter on July 8, has climbed to 44.
Meanwhile, curfew remained in force in all 10 districts of the Valley as a precautionary measure today in view of large gatherings for Friday prayers.
"Large gatherings are expected during Friday prayers which usually turn into violent protests," an official said.
Authorities had eased curfew in four districts -- Baramulla, Bandipora, Budgam and Ganderbal -- yesterday to facilitate reopening of schools.
However, most of the schools in these districts remained closed as parents chose not to send their wards due to security apprehensions.
Mobile telephony and mobile internet services remained suspended for the 14th day today. Normal life remains paralysed for two weeks now due to curfew and a separatist-sponsored strike.
The valley has been reeling under curfew announced by the authorities and a total protest shutdown called by the separatists for the last 13 days following violent protests which started on July 9, a day after Hizbul commander Burhan Wani was killed in a gunfight with security forces.
With PTI Inputs