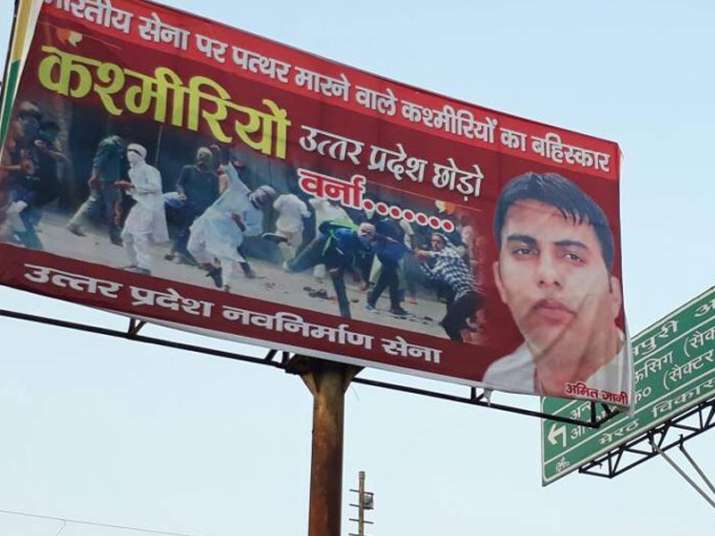 In the backdrop of rising incidents of stone-pelting on security forces in the Kashmir, hoardings calling for boycott of Kashmiris and asking people from the Valley to leave Uttar Pradesh mysteriously came up in the Meerut district of the state.
"'Kashmiriyon Uttar Pradesh chodo, varna...' (Kashmiris, leave UP or else...)" came up in Meerut and on the Delhi-Dehradun highway in the vicinity of colleges where Kashmiris study.
The banners were put up by a little-known fringe outfit, Uttar Pradesh Nav Nirman Sena. The police have booked Amit Jani, president of the right-wing fringe group, on charges of  promoting enmity between different groups under section 153 (b) of the IPC. 
Jani admitted to have put up at least 48 suck hoardings along the Partapur bypass outside the colleges where Kashmiri students study. The outfit said that it was only the first step and it will launch a 'halla bol' campaign from April 30 to 'banish' the Kashmiris who do not leave the state on their own.
"Kashmiris study and work here but are still against India. So why support them at all? We will conduct awareness campaigns to tell people in UP to boycott Kashmiris by not giving them milk, water, newspapers, rented accommodations and admissions," Jani said.
Jani said that the video clip of some youths assaulting soldiers on their way to poll duty in Kralpora area in central Kashmir's Budgam district angered him, prompting the group to take this step.
"Almost every day, Kashmiris pelt stones at Indian soldiers. I have talked with many students in colleges of Meerut and have got to know that most of the Kashmiri students don't even sing the national song and the national anthem. Kashmiris cannot live normally in Uttar Pradesh when their relatives and friends back in their state are pelting stones on our Army at the border," said Jani.
Interestingly, Jani is the same individual who had threatened to storm the JNU campus and gun down Kanhaiya Kumar and Umar Khalid last year if they did not leave. He was arrested later in May, 2016 after being in hiding for three months.
Meanwhile, condemning the alleged incidents of harassment of Kashmiri youths outside J&K, Home Minister Rajnath Singh today asked all the states to ensure their safety. 
The Home Minister said an advisory is being sent by his ministry to all the states for the safety and security of Kashmiris living there. Singh's statement came in the wake of reports alleging that Kashmiri students in Rajasthan and Uttar Pradesh were receiving threats.