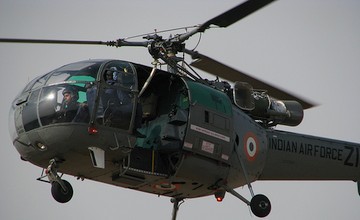 An Indian Air Force chopper, which was on a flood victim rescue mission in Arunachal Pradesh, went missing near Sagalee in Papum Pare district with three crew members on board, the defence officials said. The Advanced Light Helicopter (ALH) lost contact soon after its take off from Sagalee at around 3.50 pm before the rescue, Defence PRO Lt Col Sambit Ghosh said. 
The chopper was evacuating people, stranded at Sagalee due to landslides, triggered by rains. 
Sources at the chief minister's office here said Chief Minister Pema Khandu was personally monitoring the situation. 
Directives have been issued to the administration and the police to extend all possible help in the search and rescue operation. 
The villagers have also been asked to help the administration in locating the missing chopper, the sources said. 
Life remains paralysed in Arunachal Pradesh 
Heavy rains lashed several parts of Arunachal Pradesh, including the capital, causing landslides and flood-like situation in many areas across the state. The administration has alerted residents located at vulnerable areas, such as river banks, streams, landslide-prone zone and advised them to move to safer locations. 
Heavy damages to roads, culverts, houses and other infrastructure were reported from the districts. 
More than 20 stranded passengers, including four patients, three children, women and students were airlifted from Sagalee to Naharlagun yesterday. Meanwhile, incessant rainfall led to erosion of a major portion of the National Highway 415 between Naharlagun and Itanagar. 
The National Highway 415 connecting Itanagar and Naharlagun has been closed and all vehicles were diverted to Papu-Nallah and Itanagar via Jollang Road. The situation worsened as the soil below Barapani Bridge began eroding due to the rise in water level, official sources said.