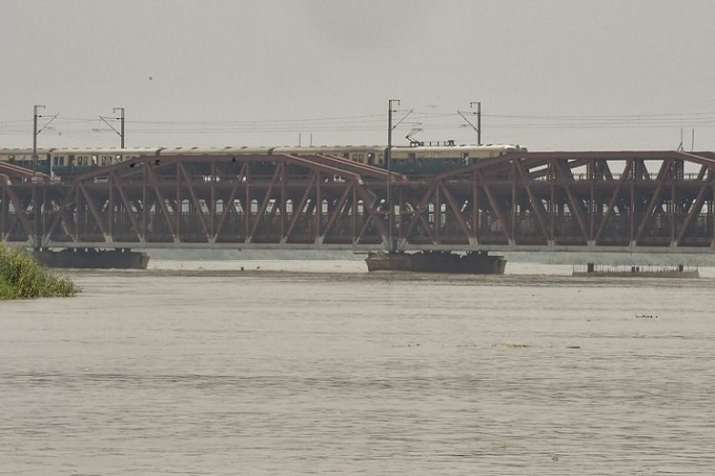 The rail traffic on the old Yamuna bridge has been restored after it was temporarily closed on Monday. Continuous rise in water level of the river had forced the closure of the 'Loha Pul', which was followed by cancellation of 27 passenger trains and diversion of 7.
The water level of Yamuna is safe enough for the passing of trains, said CPRO Northern Railway, Nitin Chowdhary. Railway engineers are continuously monitoring the site and bridge health, he added.
The Indian Railways had on Monday confirmed that the water level in Yamuna rose to 205.53 mark.
The District Magistrate (DM) of East Delhi, K Mahesh had on Sunday ordered the closure of traffic on the old Yamuna bridge after flooding in river Yamuna had crossed water level danger mark.
The water level on Sunday touched 205.46 metres, which was beyond the danger mark of 204.83 metres. The water level is further expected to rise after over 6,50,000 cusecs of water was released from Haryana.
Haryana Chief Minister Manohar Lal Khattar had conducted an aerial survey of the affected areas on Sunday, as more than three dozen villages had waterlogged in two districts of the state due to overflowing of Yamuna.
He also instructed the concerned officers to conduct a revenue survey to assess the crop damage due to heavy rains.
Also Read | Haryana CM conducts aerial survey as Yamuna inundates state villages
More than 1000 people were evacuated from the low-lying areas near Yamuna river on Saturday evening.
The Delhi government is set to make a public announcement on Monday, to spread awareness among on the danger level mark. The decision was taken in a high-level meeting called by Delhi Chief Minister Arvind Kejriwal.
Delhi: People who lived in areas along banks of river Yamuna&evacuated it after water level rose, say 'Water entered houses,we're on road. There's no arrangement for food&shelter. 'Rain Baseras' are full. Jhuggi jhopdi waalon ko yahi milta hai'.Visuals from near Old Yamuna Bridge pic.twitter.com/5XhiW5zH12

— ANI (@ANI) July 29, 2018
The Yamuna passes through Yamunanagar, Karnal and Panipat districts in Haryana before entering Delhi.
The MeT department on Saturday had predicted heavy to very heavy rainfall in entire north India for the next couple of days, which could result in further swelling of rivers in the region.