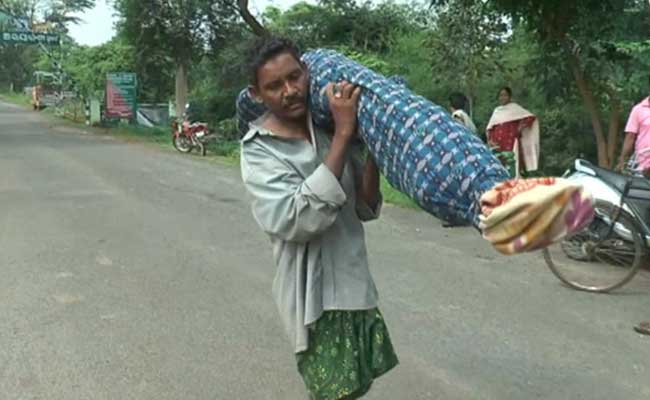 A day after a tribal man had to walk 10km carrying his wife's body on his shoulder in Odisha's Kalahandi, the state government on Thursday ordered probe to ascertain the circumstances which led to the incident.
"The District Collector of Kalahandi has ordered an inquiry into the incident. Sub-Collector of Bhawanipatna has been directed to conduct the probe and submit a report at the earliest," state urban development minister Pushpendra Singhdeo, who hails from Kalahandi district, said in Bhubaneswar.
"Sub-Collector Sukanta Tripathy has been asked to ascertain whether the tribal man, Dana Majhi, had been denied a vehicle to take his wife's body from the hospital here yesterday," said a senior officer.
The shocking apathy of the hospital authorities came to light after a tribal man was seen walking down the road, carrying his wife's dead body wrapped in a blanket early on Wednesday. At his side walked his sobbing 12-year-old daughter.
Failing to get a vehicle to take home the body of his wife from the district hospital, Dana Majhi had done the inevitable - setting out on the way to his village Melghara, a 60-km walk.
Majhi is a resident of Kalahandi, one of the poorest and most backward districts of Odisha. His 42-year-old wife Amang Dei was suffering from tuberculosis.
After walking nearly 10 km, he met the crew of a local television channel. "I told the hospital authorities that I am a poor man and cannot afford a vehicle. They said they could not offer any help," Majhi told them.
The hospital's alleged refusal came despite an existing scheme from the state government for people like Manjhi.
In a state where medical help isn't easy to come by, the Naveen Patnaik government had launched the 'Mahaparayana' scheme in February, offering to transport the bodies of deceased from government hospitals to their homes free of charge.
The television crew called up the District Collector and arranged for an ambulance for the remaining 50 km of the journey.
Under the scheme, vehicles to carry the dead are meant to be deployed at 37 government hospitals and a total of 40 vehicles were assigned for the job.
Kalikesh Singh Deo, a Member of Parliament from the ruling BJD, tweeted, "I have already asked the local minister to verify this and take appropriate action."
Kalahandi District Collector Brunda D said, "As we got to know of the incident, we spoke to the CDMO and arranged for an ambulance". He said he had also issued instructions that the family be provided help under the Harishchandra Yojana for the last rites.
(With PTI inputs)