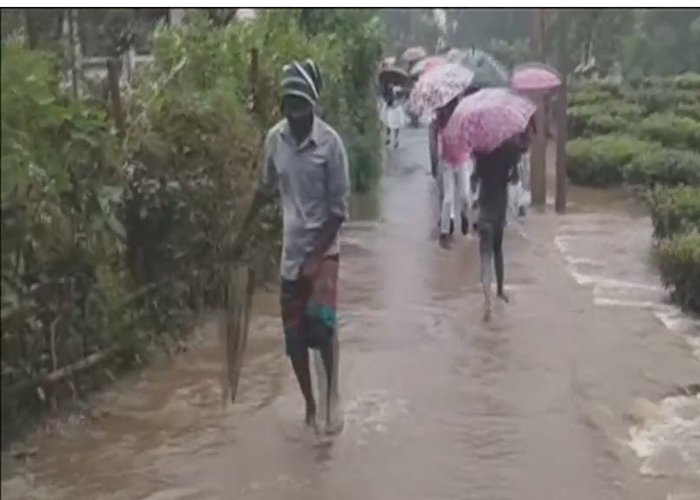 Cyclone Ockhi intensified into a severe cyclonic storm  and is likely to cross Lakshadweep arch during the next 24 hours, the India Meteorological Department said on Friday.
Meanwhile, rains, which left eight persons dead including four each in Tamil Nadu and Kerala on Thursday, continued to lash parts of the two states.
According to reports, schools in Chennai, Kanyakumari, Tuticorin, Kancheepuram, Villupuram, Madurai, Theni, Thanjavur and Thiruvarur remained closed today.
HERE ARE THE UPDATES:
#According to the latest weather bulletin, the meteorological office predicts heavy to very heavy rains at isolated places over the south Tamil Nadu and south Kerala.
#A Defence spokesperson on Friday said 13 boats with 38 crew from Kerala and one boat from Tamil Nadu with four persons onbard were missing. A Navy aircraft rescued eight of them. "The fishermen were found floating in water by Advance Light Helicopter," the spokesperson said.
WATCH: Water logging after heavy rain in Thiruvananthapuram #Kerala pic.twitter.com/qOEve4TJav

— ANI (@ANI) December 1, 2017
The weather department said Kanyakumari, Tuticorin and Tirunelveli districts in Tamil Nadu received rains for the third day on Friday though the cyclone threat mitigated as the system, lying 70 kms south of Kanyakumari on Thursday, moved to the Arabian sea.
#Gale winds speed reaching 110-120 kmph gusting to 130 kmph were very likely over and around Lakshadweep during next 24 hours. Squally wind conditions would prevail along and off Kerala and Karnataka coast.
#It forecast rainfall at most places with heavy to very heavy at a few places and isolated extremely heavy falls (more than 20 cm) over Lakshadweep area during next 24 hours.
#Kerala: Relatives of missing fishermen mourn in Thiruvananthapuram, say they received no warnings of #CycloneOckhi from the government pic.twitter.com/gewQlJZvPI

— ANI (@ANI) December 1, 2017
#Rainfall at many places with heavy rainfall at isolated places were very likely over Kerala during next 24 hours.
#Rains also hit several other parts of the state, including Chennai and its surroundings since Friday night, following which holiday was declared for schools in Chennai, Kancheepuram and parts of Tiruvallu district as also some other districts.
#Search operations for several missing fishermen, who had put out to sea from the coast in Kerlal and Tamil Nadu, resumed on Friday morning with Navy deploying a Dornier and an Advanced light helicopter (ALH) with divers.
#Five Kanyakumari district fishermen did not return to the shores after they put out to sea two days ago, police said. Navy, which had on Thursday sent a Seaking helicopter for the search operations, on Friday morning deployed a Dornier and an ALH with divers, Southern Naval Command spokesperson Commander Sreedhar Warrier said.
#Five ships had been sent to the southern Kerala coast by the Navy after reports emerged that several fishermen who had put out to sea in choppy waters were yet to return.
#Besides, two ships with relief materials are on stand by at Lakshadweep for humanitarian assistance.
#A Kochi report said five Navy ships and four vessels from the Coast Guard have been deployed for search and rescue operations to locate missing fishermen.
#All the ships have been directed to be positioned along and off Kerala Coast and additional Dornier sorties will be undertaken on Friday.