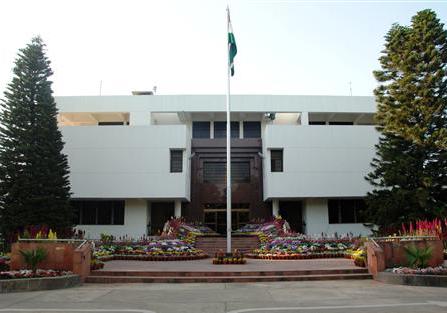 Harassment is the new normal for Indian High Commission personnel in Islamabad, an official source says. According to reports, Indian diplomats and their families are suffering an aggressive form of harassment at the hands of Pakistan in Islamabad.
"Aggressive surveillance, violation of physical space and tailing of officers in close and dangerous proximity is a perennial issue. Agency personnel keep shooting videos of the officers thrusting phones on their faces.
"Obscene phone calls and messages are constantly received on phones. In view of such an atmosphere of intimidation, most families have returned to India and children have been withdrawn from schools," the source said.
The matter came to light after the Pakistan High Commission in New Delhi lodged complaints of harassment with the External Affairs Ministry, which has assured them of an investigation.
The official source, which revealed the details of Pakistan HC's complaint said that Indian officials have been harassed consistently but they chose to tackle this matter with quiet and persistent diplomacy rather than by airing issues in the media. 
"India makes all efforts to provide a safe, secure and hospitable environment for diplomats to work in. Unfortunately, this cannot be said of Islamabad. The Indian High Commission in Pakistan has been facing tremendous harassment for long, particularly in the last year," the source said.
In more trouble, over the last few months, several Indian High Commission staffers have been severely harassed and intimidated, the source said, adding that in one case an official's home was broken into and a laptop stolen.
"India's residential complex in Islamabad was raided by Pakistan agencies who expelled all Pakistani service providers and later disconnected power and water supply.
"Despite the Foreign Secretary's assurance, the power supply was not restored for over two weeks. The Pakistan High Commission faces no such disruptions," the source said.
Sources also said that on February 16, the Indian High Commissioner met the Foreign Secretary of Pakistan to lodge a strong protest against multiple acts of hooliganism against Indian properties and personnel.
The strong reaction came after Pakistani newspaper Dawn quoted Pakistani officials of accusing India of harassing its diplomats and their families in the country and threatened to pull out the families if the intimidation did not stop.
A demarche was made to the Indian High Commission in Islamabad and the external affairs ministry in Delhi, a diplomatic source was quoted as saying by the Dawn. 
However, sources here said India has repeatedly requested Pakistan to mutually ensure that High Commissions are allowed to do their job in an atmosphere free of harassment and intimidation, that staff be allowed to work and that construction projects get completed on time.
"We would like to continue the fine tradition of allowing diplomats to do their jobs," the source said.
(With PTI inputs)